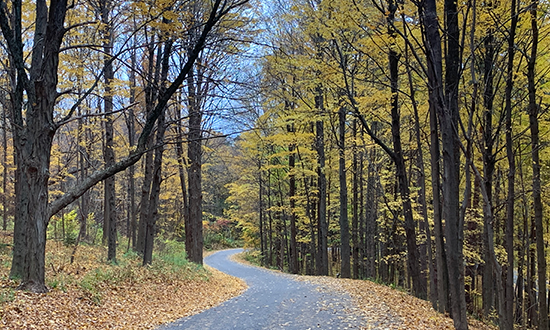 As the vibrant colors of autumn slowly give way to the crisp, cool days of November, I find myself reflecting on the beauty of Vermont's transition from one season to the next. This time of year, affectionately known as "Stick Season," brings its own unique charm, as the foliage retreats and we prepare for the blanket of winter snow that will soon cover our picturesque landscapes.

Stick Season, with its bare trees and clear, crisp air, serves as a reminder of the changes that occur in our surroundings, just as our telecom services continue to evolve and improve. We are making strides to ensure that you enjoy the very best in connectivity, even during the coldest Vermont winters.

Thank you for choosing Waitsfield and Champlain Valley Telecom as your trusted telecommunications provider. Together, we'll embrace the changing seasons and the exciting progress that lies ahead.

Warm regards,

Eric Haskin
President and CEO
Waitsfield and Champlain Valley Telecom


---



Stay Connected with the FCC Affordable Connectivity Program

The Affordable Connectivity Program (ACP) is a Federal Communications Commission (FCC) program that helps ensure that households can afford the broadband they need for work, school, healthcare and more. The benefit provides a discount of up to $30 per month toward internet service for eligible households.

Here are the ways your household can qualify for the Affordable Connectivity Program (ACP):
Based on your household income
If you or your child or dependent participate in certain government assistance programs such as SNAP, Medicaid, WIC, or other programs
If you or your child or dependent already receives a Lifeline benefit
For more information and to apply, visit wcvt.com/assistance.


---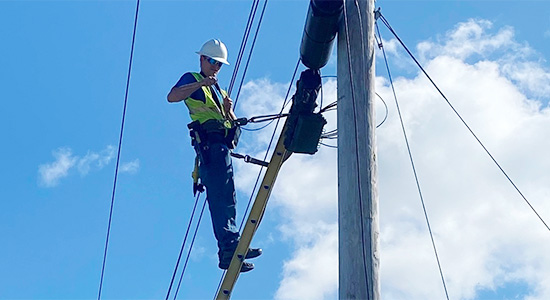 Come Join Our Team - We Are Hiring!

When you become part of the Waitsfield and Champlain Valley Telecom family, you're joining a one-hundred-year old organization that values its employees and recognizes the important contribution each one makes to our company's success. Our progressive benefits and compensation package reflects the appreciation we have for our employees and rewards them for their commitment and dedication to our company.

Managing a family-friendly atmosphere in a fast-paced industry can present challenges, but we keep a careful eye on workplace satisfaction and quality, as we do on product and customer service quality. We are looking for people who share our passion for excellence and are willing to grow with us in the future. We are an EOE (Equal Opportunity Employer).

Current Job Openings: click here.

Waitsfield and Champlain Valley Telecom has approximately 70 employees serving our more than 16,000 customers in Vermont. WCVT offers a competitive salary and a comprehensive benefit package.
Medical, Dental, Vision
Flexible Spending Account (Medical and Dependent Care)
401K Retirement Plan With Employer Matching Contribution
Life Insurance
Short and Long Term Disability
Paid Time Off
Paid Holidays
16 hours of Paid Community Service
College Tuition Reimbursement
Health and Wellness Programs
---
Win a $50 Gift Certificate to Sugarbush Resort

We've got another great prize from a local business to raffle off. This month, we're raffling off a $50.00 gift certificate to Sugarbush Resort. The snow guns are blasting and opening day is projected for Saturday, November 18th!

To be entered into the raffle, simply click the link below and leave your name and contact information. The drawing will take place on November 15th.

Click here to enter for your chance to win!


---

Beware of Phishing Scams: Protecting Your Account

In recent times, cybercriminals have become more sophisticated in their attempts to deceive unsuspecting victims. One common tactic these malicious actors employ is phishing scams, where they impersonate trusted entities to steal personal information. We'd like to warn our customers about a new phishing attempt that has come to our attention.

Some customers reported receiving an email that claimed to be from the "Gmavt Team." The message asserts that if the user does not confirm their email for the "new privacy security upgrade," their email account will be closed. While this may sound alarming, it is essential to be vigilant.

How to Identify the Phishing Attempt:
Check the Sender's Address: Verify the email address. In this case, the sender's address is likely to be suspicious and not from an official WCVT/GMA domain.
Grammar and Spelling: Phishing emails often contain grammatical errors or awkward language. In the example provided, there is an unusual phrase, "account will be closed before these terms become effective."
Urgent and Threatening Language: Scammers often use threatening language to induce panic, as seen in the message's warning about account closure.
Hover Over Links: Before clicking on any links within the email, hover your mouse over them to see where they lead. In a phishing email, the link address may not match the official website.
Protecting Yourself:
Do Not Click on Suspicious Links: If you receive an email that appears suspicious, do not click on any links within the message.
Verify the Sender: Contact us through official channels to verify the legitimacy of the email you received.
Use Two-Factor Authentication: Enable two-factor authentication for added security on your Gmavt account.
Remember that legitimate organizations will never ask for sensitive information, such as passwords or account details, through unsolicited emails. If in doubt, call us. Your online security is of utmost importance to us. Stay vigilant; together, we can help protect your account from phishing scams and other cyber threats.


---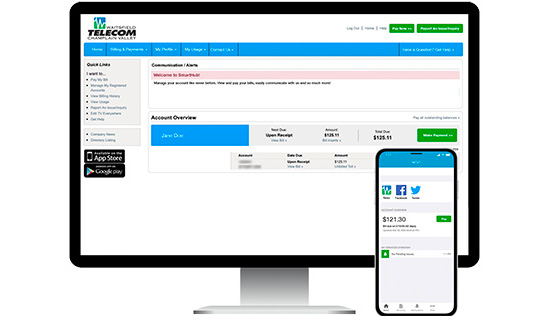 Introducing SmartHub

Save time and money by managing your account at any time from anywhere!
Manage Your Account - Your account information is all in one convenient place. Access it anywhere at any time.
View & Pay Your Bill - View your charges, go paperless, and set up a one-time credit card, bank payment, or monthly automatic payment so you never have to worry about remembering a due date again.
Report Service Issues & Outages - Contacting us has never been easier. If you are experiencing an outage at your location, you can report that through SmartHub and provide other important details, which help us identify the cause.
Visit wcvt.com/smarthub for more information.