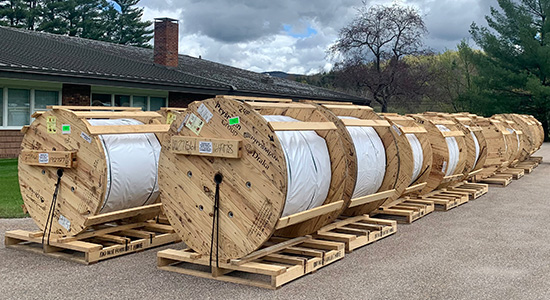 Happy spring, though it sure feels like summer! I hope everyone can get outdoors and enjoy this beautiful weather. As you may know, we are converting to a new billing and account management system through the National Information Solutions Cooperative (NISC). NISC specializes in software solutions for telecommunications companies and electric utilities. Thank you for your patience as we work through this upgrade. Also, a big thank you to our dedicated employees who have been working diligently on this project. With our new system, we will have the ability to offer our customers more control over their accounts, better communication, and efficiency in our billing processes.

In addition, it is construction season in Vermont and our 2023 fiber construction projects are underway. Again, if you are included in one of our build areas scheduled for this year, we will be reaching out to let you know that fiber is coming to your location as our construction progresses. Also, to help keep you updated on our fiber projects and availability, please visit getfiber.wcvt.com and register your address. The "Service Area" link has our build areas mapped and broken out by status which may be helpful to you. Please know that every single dollar we invest in fiber is benefiting Vermont and the local communities we serve. These are big projects and building fiber to everyone is going to take time, but each and every day, we are making progress and converting more customers to fiber.

Sincerely,

Eric Haskin
President and CEO
Waitsfield and Champlain Valley Telecom


---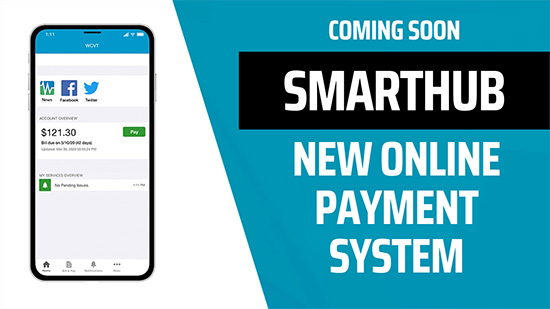 WCVT Is Upgrading Our Billing System

On Monday, June 5th, Waitsfield and Champlain Valley Telecom will be transitioning to a new billing system. With our new system, we will have the ability to offer our customers more control over their account, better communication and efficiencies in our billing processes.

We are most excited by SmartHub, our new online account management tool. With SmartHub, you will be able to manage your account, view and pay your bill, report service issues, receive customized alerts and more.

Important Information:
Due to the upgrade, our current online payment system is offline. As a result, no credit or debit card payments can be made online, over the telephone or in our office until June 5th when our upgrade is complete. Payments via check can still be made in our lobby, mailed, or left in our night drop box.
On Monday, June 5th - SmartHub is live! It's time to create a new account in SmartHub, download app to your mobile device, sign up for Auto Pay and start taking advantage of all the features SmartHub offers.
If you currently have your credit/debit card charged automatically every month, you must create a new account in SmartHub and re-enroll in Auto Pay. Due to security parameters we are not able to transfer credit or debit card information from the old system to the new system.
Visit our SmartHub support page at www.wcvt.com/smarthub for detailed instructions and videos.
Thank you for your continued support and patience during our billing system conversion. Please contact us if you have any questions. We are here to help!


---
Win a Pair of Day Passes to Any Vermont State Park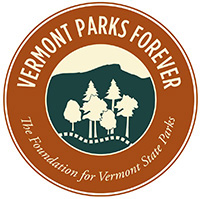 We have another great prize to raffle off this month. Enter for a chance to win a pair of day passes to any Vermont State Park (day passes valid through 10/21/24). Vermont's 55 state parks offer a boundless range of outdoor recreation and exploration opportunities, from camping to fishing, backpacking to hiking, swimming to boating and just spending a nice long summer day outside. WCVT is proud to be a Business Partner of Vermont Parks Forever.

To be entered into the raffle, simply click the link below and leave your name and contact information. The drawing will take place on June 15th, we'll pick four lucky winners.

Click here to enter for your chance to win!


---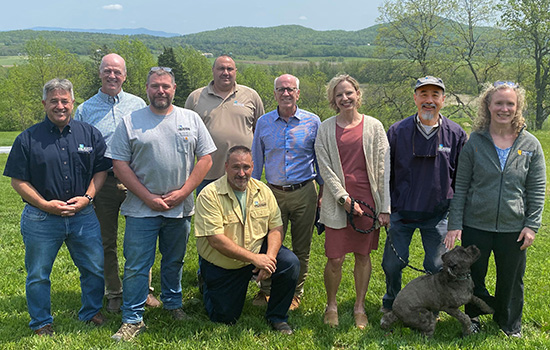 Senator Welch Joins WCVT on Fiber Install

Last week, Senator Peter Welch joined WCVT staff on a fiber installation at a customer location in Panton. It is critically important that our policymakers understand the impacts of their legislation and we appreciate it when our lawmakers want to get out into the field to see firsthand what it takes to build fiber-optic broadband in the rural communities we serve. Senator Welch has been a longtime champion of rural broadband, and we truly appreciate him spending the day with us.