September E-Newsletter
We think you'll find the information contained in this newsletter to be a valuable tool for enhancing your Internet experience. As always, we appreciate your feedback and suggestions. Please send your thoughts, comments or questions to newsletter@gmavt.net.
The Green Mountain Access Team
~ Adam, Amanda, Eric, Jess, Kris, Phil, Richard, Seth and Scott
---
Company News
Win a $65 Gift Card To Sugarbush Golf Club
Each month, we raffle off a prize from a local business, so be sure to enter your name every month for your chance to win. Congratulations to all of last month's winners of tickets to the Addison County Fair and Field Days. This month we have another great local prize, a $65.00 gift card to Sugarbush Golf Club. To be entered into the raffle, simply click the link below and leave your name and contact information. The drawing will take place on September 16th.
Click here to enter for your chance to win

Come See Us At The Bristol Harvest Festival
Come see us at the Bristol Harvest Festival which will take place on the Bristol Town Green on Saturday, September 28th from 10:00 a.m. to 4:00 p.m. This is an event that we attend annually and it's a great opportunity to meet our customers face-to-face and help answer any questions. A free day of family fun with music, children's activities, food, crafters, vendors and more! For more information, visit www.bristolharvestfest.com. We hope to see you there!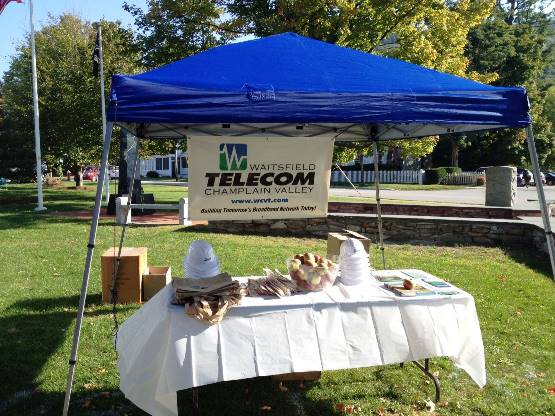 Great Wi-Fi Coverage Is More Important Than Ever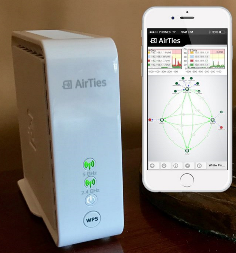 Depending on the size, layout, and construction materials used in your home or business, a single access point solution may not provide you with adequate coverage. Our Whole Home Wi-Fi fixes that by using multiple Access Points. One of our expert technicians will optimize your Wi-Fi by placing Wi-Fi access points at strategic locations around your home to expand coverage, eliminating dead spots, and providing great performance for all of your streaming devices.
At Green Mountain Access, we offer a full range of residential and business class Wi-Fi solutions from leading manufacturers including AirTies, eero, Ubiquiti and Ruckus.
Want To Learn More?
For more information, watch our video below or visit http://www.wcvt.com/services/wi-fi/residential to learn more about our Whole Home Wi-Fi or business Wi-Fi solutions. You can also give us a call at 800-496-3391 or send us an email and we'd be happy to discuss our solutions with you.
Phishing Awareness - Don't Get Hooked By Email Phishing Scams
Just about every day, our Technical Support team hears from customers who received scam emails. Phishing emails are typically fraudulent emails that are designed to look like they are coming from legitimate businesses. These can often be hard to spot. One common type of phishing email that we see is asking you to click on a link to verify account information. Remember, Green Mountain Access will never send an email asking for you to verify your account information or asking for your password. If you ever are in doubt about the legitimacy of an email, just give us a call. We've put together the following video with tips to help you determine whether or not an email is legitimate. And remember, the safest thing to do with a suspected phishing email, is to simply delete it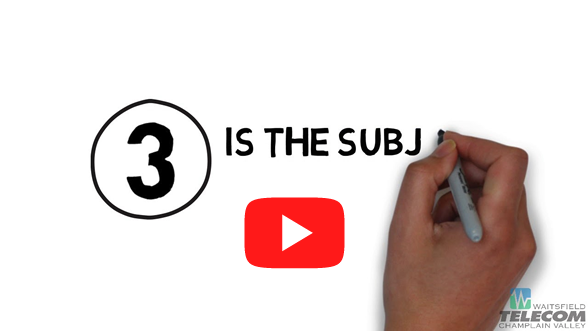 ---
WCVT In The Community
WCVT Employees Donate Backpacks To Local Schools
Once again this year, Waitsfield and Champlain Valley Telecom employees donated over 70 backpacks to local schools throughout our service area. This is the eighth year that WCVT has coordinated the charitable backpack program. The program is coordinated by Tammy Field, Administrative Services Supervisor for the company. Tammy also coordinates the company's Annual Giving Tree program and worked with local schools to help identify families needing assistance of school supplies for their children. Throughout the year, WCVT frequently collaborates with local nonprofits, schools and community organizations to provide important services in our local communities.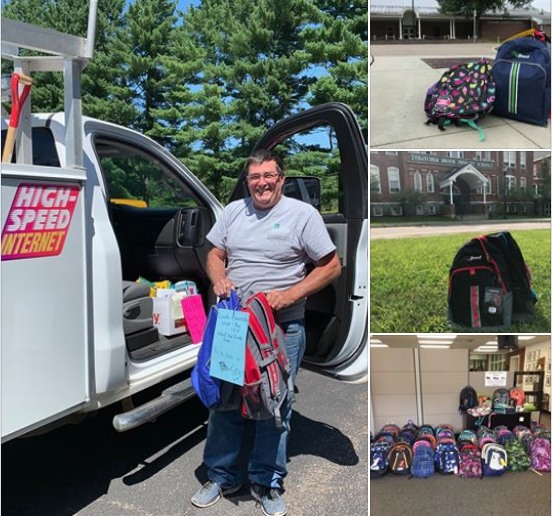 Waitsfield and Champlain Valley Telecom provides each employee with sixteen hours of community service time yearly to be used on local service projects. If your organization has a project in the making and is looking for help, contact Lorraine Keener at 496-8379 or lkeener@corp.wcvt.com to discuss the possibilities of WCVT participation.

---
Community Events
Better L8 Than Never Car Show – September 22nd - Bristol
The 15th Annual Better L8 Than Never Car Show takes place on Sunday, September 22nd from 9:00 a.m. – 4:00 p.m. at the Bristol Recreation Field. Come see the car show, plus vendors, food, and kids activities. For more information, visithttps://www.addisoncounty.com/better-l8-car-show
Bristol Harvest Festival - Saturday, September 28 - Bristol
The harvest festival takes place on the Bristol Town Green on Saturday from 10:00 a.m. - 4:00 p.m. and features a full day of live music, on the bandstand, activities for kids, pony rides, food, crafters, and vendors. This event is organized by the Addison County Chamber of Commerce and the Bristol Recreation Department. For more information, visit https://www.addisoncounty.com/bristol-harvest-festival.
Mad Dash, Sunday, October 13th - Waitsfield
The Mad Dash, sponsored by Sugarbush Resort, includes a 5k run race, a 10K run race, a 5K walk and the Blue Cross/Blue Shield kid's fun run. Every participant is welcomed by our many volunteers and receives an event shirt, a healthy lunch, refreshments and great entertainment. There are raffle prizes to be won along with a silent auction featuring an assortment of great items from local valley businesses. The run/walk course takes you through beautiful countryside on local roads with scenic views, farms, a covered bridge and colorful meadows. For more information or to register, visit http://www.madriverpath.com/mad-dash.php.
---
Tutorial / FAQ
Scam Alert - Watch Out For Social Media Video Scam
Like so many scams, this one seems innocent enough. You receive a Facebook message with a video link asking, "Is this you?" Of course you're curious, so you click the link. When you do, you're taken to a website that appears to be Facebook or YouTube and asked to log in again. If you log in, you're actually providing your login credentials to the scammer, and they now have access to your account.
To avoid the scam, don't click links that ask, "Is this you?" even if the message appears to be from someone you know. Instead, delete the message and make sure your firewall and antivirus software are up to date. Contact the sender (if you know them) using an alternative method such as a text and tell them their account may be compromised.
If you've already fallen for it (and don't feel bad, it could happen to anyone), immediately reset your password for the site you provided credentials for and keep an eye out for suspicious activity on your account. Regularly check and update the privacy settings on all your social media accounts. You may also want to alert the site where this happened as well as the Better Business Bureau.
https://www.bbb.org/scamtracker/us
FAQ Short Tutorial / FAQ - How Are Spammers Getting My Email Address
Question: I do all the right things to avoid spam, yet I still get a ton of it. How are spammers even getting my email address?
Answer: Unfortunately, spammers have a variety of methods at their disposal to get email addresses. Here are some of the most common:
~ Leaked Account Databases. Spammers can collect active email addresses by mining leaked databases from compromised organizations like Adobe, LinkedIn, and Snapchat.
~ Email Address Lists. Legitimate businesses don't sell email address lists, but if a list gets into the hands of an unscrupulous actor, they'll have no problem selling it to spammers for a low price.
~ Random Email Addresses. Spam costs very little to send, so spammers may start with a popular email service like Gmail and then generate combinations of common words and names as the username.
~ "Crawl and Scrape" Programs. Any text on a webpage containing the @ character is fair game for robotic harvesting tools. Using this method, thousands of addresses can be collected within an hour.
~ Dishonest Unsubscribe Newsletter Links. A spammer will send a false newsletter email that includes an "unsubscribe" link. When you click the link, you're confirming that a real person exists at your email address, which gets added to lists of valid addresses.
~ Fake Sweepstakes Sites. Spammers can get your email address through a fake sweepstakes site. They might give away a small prize, but their primary goal is to gather your personal information and use it to spam you.
---
Sites of the Month
The Spruce
"Make your best home" with great ideas for décor, gardening, repairs, cleaning, and celebrations.https://www.thespruce.com/
Book Riot
Whether you're into mystery, romance, sci-fi, or comics, this site has something for any reader.https://bookriot.com/
Emmys
Keep up with the latest on the TV awards, plus see photos, interviews, and backstage action.https://www.emmys.com/
---
More...
Must See Videos - A Couple Amazing Videos You Don't Want to Miss
Ready? Set? Dino Dash!
This hilarious video shows people wearing T-rex costumes racing at the Emerald Downs racetrack in Auburn, Washington.
Robotic Berry Picker
A model of efficiency, this machine picks only ripe strawberries and prepares them for shipment to your local grocer.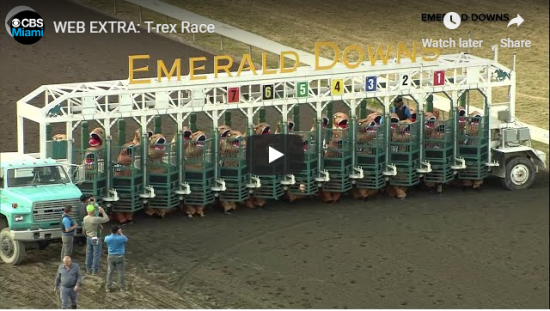 Do-It-Yourself Tips
Fix That Annoying Hole In The Wall
Master contractor Ed Del Grande shares secrets for finally patching the hole that drives you crazy every time you walk by.
http://www.eNewsletterHome.com/_eNewsletter/2019/1909_VIDEO_I1_DoIt.htm
Repair Driveway Cracks Like A Pro
You don't need to be an expert to follow these steps and make those unsightly concrete driveway cracks go away for good.
http://www.eNewsletterHome.com/_eNewsletter/2019/1909_VIDEO_I2_DoIt.htm
Instagram Focus
Dad On The Move
This dad takes the "teach by example" suggestion to an extreme, showing off his basketball moves for his toddler son.
https://www.instagram.com/p/B1KBZ9MAC2C/
Catch A Wave
Check out these up close shots of waves breaking on the beach.
https://www.instagram.com/p/BxJXPHpBQkN/
Cooking Demo
Epic Football Party Snacks
These three recipes will help you score big on game day or any day. Each one is easy to make and delicious to eat.
http://www.eNewsletterHome.com/_eNewsletter/2019/1909_VIDEO_E1_Cooking.htm
White Bread Quiche
Short on time, but want to make a satisfying brunch? Use bread in place of pastry crust for a beautiful, filling quiche.
http://www.eNewsletterHome.com/_eNewsletter/2019/1909_VIDEO_E2_Cooking.htm
---