November E-Newsletter
We think you'll find the information contained in this newsletter to be a valuable tool for enhancing your Internet experience. As always, we appreciate your feedback and suggestions. Please send your thoughts, comments or questions to newsletter@gmavt.net.
The Green Mountain Access Team
~ Adam, Amanda, Eric, Jess, Kris, Phil, Richard, Seth and Scott
---
Company News
Win a Mad Card To Mad River Glen

Each month, we raffle off a prize from a local business, so be sure to enter your name for your chance to win. This month we are raffling off a Mad Card ($175.00 value) from Mad River Glen. The Mad Card offers 3 transferable day tickets good any time during the 2019-20 ski season. Congratulations to John Pawul for winning our GMA monthly eNewsletter raffle - a $50.00 gift certificate to the Hatchet. To be entered into the raffle, simply click the link below and leave your name and contact information. The drawing will take place on November 18th.
Click here to enter for your chance to win
Thank You For Buying Local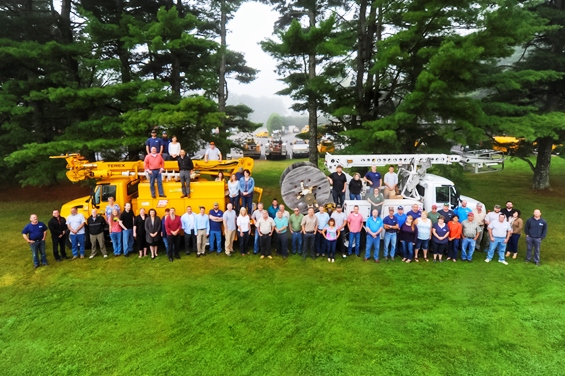 At Waitsfield and Champlain Valley Telecom, we have a dedicated team of telecommunications experts working on your behalf every day. As your truly local provider, we live and work alongside you in this community and that local service is something our competitors can't offer. With us at your side, you can enjoy advantages such as:
Local, Personal Attention
Just stop in our office or give us a call when you have questions. You're not limited to 800 numbers answered by customer service representatives across the country or on the other side of the world. We bring a unique blend of local knowledge, expertise and support to everything we do.
Faster Response Times
We're nearby and ready to serve you, and we also value your time. So our team works hard to ensure that your needs are taken care of quickly. We understand how important your services are to you and work diligently to keep you connected to the world.
Commitment to Improved Services
Waitsfield and Champlain Valley Telecom strives to provide you with the best telecommunications solutions available for a fair rate. After all, we're invested in the local communities we serve.
All of us at Waitsfield and Champlain Valley Telecom want to thank you for choosing us as your provider and we look forward to continuing to serve your future needs.
WCVT In The Community
Bristol Halloween Party Was Spooktacular!
Thanks to everyone that came to our annual children's Halloween Party in Bristol! Once again we had a great turnout. A special thanks to the Bristol Recreation Department for all of their help and the use of Holley Hall and to the community for supporting this great annual event.
Being a local business means that our customers are also our neighbors and friends. At Waitsfield and Champlain Valley Telecom, we feel strongly that community involvement is not just a nice thing to do; it is the right thing to do. If you have a community service project in the making and are looking for help, contact Lorraine Keener at 496-8379 or via email lkeener@corp.wcvt.com to see if we can lend a hand.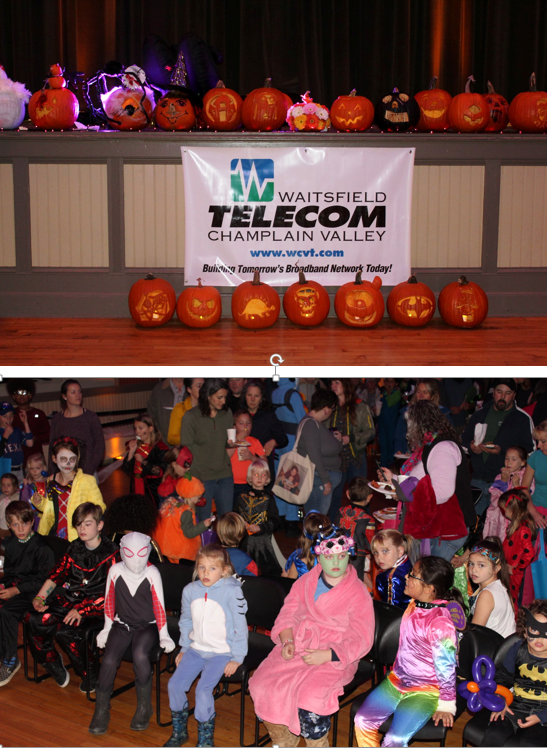 Waitsfield and Champlain Valley Telecom provides each employee with sixteen hours of community service time yearly to be used on local service projects. If your organization has a project in the making and is looking for help, contact Lorraine Keener at 496-8379 or lkeener@corp.wcvt.com to discuss the possibilities of WCVT participation.
---
Community Events
Waitsfield Ski And Skate Sale - Saturday / Sunday, November 9 and 10 - Waitsfield
New and used equipment and clothing for skiers, riders, skaters, and winter lovers of all ages. All proceeds benefit the Waitsfield Elementary School PTA. Hours are from 9:00 am to 5:00 pm on Saturday and 10:00 am - 2:00 pm on Sunday. For more information, call 496-3643 or visit https://www.madrivervalley.com/event/waitsfield-ski-skate-sale-40th-anniversary/2019-11-09.
Annual Thanksgiving Farmer's Market At The Round Barn – Sunday, November 24 - Waitsfield
The annual Thanksgiving farmer's market will take place on Sunday, November 24th from 10:00am - 2:00pm at the Round Barn in Waitsfield. It is the perfect opportunity to purchase local and organic food for use at your Thanksgiving table or to purchase unique gifts for loved ones. There will also be live music, food to enjoy while shopping, and plenty of community spirit to add to the festive and fun atmosphere. For more information, click here.
22nd Annual Louise Roomet Turkey Lane Turkey Trot – Sunday, December 1 - Hinesburg
Come out on Sunday, December 1st for a 4.25 mile fun run and walk along a scenic course in rural Hinesburg and Monkton. Proceeds benefit the Hinesburg Land Trust and its efforts to preserve land for public use forever! Registration begins at 10:30am. Walkers go at 11:15 and runners at 11:30. There will be prizes from local sponsors. For more information, visit http://www.hinesburgrec.com/info/activities/program_details.aspx?ProgramID=29886.
---
Tutorial / FAQ
Stay Alert - Fake FTC Refund Scam
Some scammers just don't quit. They find out you've been the victim of a previous scam and that you're eligible to receive money from the Federal Trade Commission (FTC). Their next move? Try to hit you with another scam!

According to the FTC itself, these criminals target people who lost money to tech support scams and contact them claiming to be from the FTC's refund department. They may even use the real names of FTC employees. They insist they can help you if you pay them, give them personal information, or allow them access to your computer. Don't fall for it!

To avoid the scam, always check the Recent FTC Cases Resulting in Refunds webpage to be sure the case is valid. Rather than working with the person who contacts you, use the contact phone number on this list. If you receive a refund check or claim from the FTC, check it against the list. If anyone asks for money, personal information, or access to your computer, don't grant it. Finally, be sure to report such activity to the actual FTC.

If you've already fallen for it, contact the FTC to start a new complaint. Immediately change passwords for your important financial accounts. Carefully monitor your finances and credit to be sure any information you might have given away isn't being used against you. If you pay a scammer, check with the entity you used to pay them, as they might be able to help you retract the payment.
FAQ Short Tutorial / FAQ - Have Any Tips for Instagram Newbies?
Question: I'm not a big social media user but my friends finally convinced me to give Instagram a try. How do I get started and post things people will like?

Answer: If you're already using other social media sites like Facebook, you'll find that Instagram is similar in many ways. If not, Instagram is easy to learn. Here are some suggestions for sharing your photos and videos:

Frequency: Find the right balance between posting too much and not enough. If you post too infrequently, followers will drift away. If you post too much, they'll get annoyed by your items flooding their feed.

Subject matter: Use your account to show your smiling face sometimes but don't forget about the rest of the world. Post photos of beautiful scenery, other people, and, yes, even your food.

Special effects: Instagram includes some filters to change the way your photos look. They can be fun in small doses but don't be tempted to overuse them.

Hashtags: These "labels" for your text can help you connect to others with similar interests. But again, don't overdo it. One or two hashtags per post is plenty.

Reciprocation: It's always a thrill when others comment on or like your posts. Remember that feeling and give it to others by commenting on or liking 2-3 items from other people for every one you post.

Stories: Use the Stories function (in which photos and videos disappear after 24 hours) to share fun, in-the-moment shots, while saving your best work for your permanent profile.
---
Sites of the Month
Brady House Renovation
Check out photos, videos, and walk-throughs of HGTV's renovation of the beloved Brady home. https://www.hgtv.com/shows/a-very-brady-renovation
Travel Smart
Before you embark on this season's travels, get expert advice for packing, planning, and more. https://www.smartertravel.com/10-tips-holiday-travel/
NerdWallet
Let the money nerds answer all your questions about credit cards, loans, and savings accounts. https://www.nerdwallet.com/
---
More...
Must See Videos - A Couple Amazing Videos You Don't Want to Miss
Time-Lapse Beard Growth
A man documents going from zero facial hair to a long, flowing beard as he and his wife spend 2.5 years traveling the globe.
Simone Biles Makes History Yet Again
Gymnastics star Simone Biles makes her amazing floor routine feats, including the first landed triple double, look easy.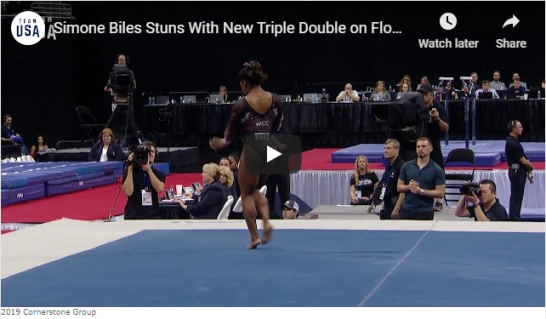 Instagram Focus
Furry Fast Friends
When two Washington Wizards players introduce their dogs to each other in the locker room, it's like at first sight.
https://www.instagram.com/p/B3ZrfpBnqR8/
Look Who's In The Stroller
Checking all the labels carefully, this tiny shopper and her furry "little one" fit right into the grocery store scene.
https://www.instagram.com/p/B2zCt2yAcAu/
Do-It-Yourself Tips
10 Adorable DIY Furniture Projects
Looking to spruce up your space? Here are some cute ideas for easy storage and furniture projects you can make yourself.
http://www.enewsletterhome.com/_eNewsletter/2019/1911_VIDEO_I1_DoIt.htm
Secrets To Removing Carpet Stains
Carpet stains are the worst — whether caused by food, pets, or dirt. This video reveals tips for cleaning them right up.
http://www.enewsletterhome.com/_eNewsletter/2019/1911_VIDEO_I2_DoIt.htm
Cooking Demo
How To Brine A Turkey
This video shows, step-by-step, how to wet- or dry-brine a turkey. Either method will give you the juiciest possible bird.
http://www.enewsletterhome.com/_eNewsletter/2019/1911_VIDEO_E1_Cooking.htm
Sweet Potato Casserole
Learn tricks for making the yummiest version of this classic Thanksgiving treat. (Of course, it includes a stick of butter!)
http://www.enewsletterhome.com/_eNewsletter/2019/1911_VIDEO_E2_Cooking.htm
---