May E-Newsletter
We think you'll find the information contained in this newsletter to be a valuable tool for enhancing your Internet experience. As always, we appreciate your feedback and suggestions. Please send your thoughts, comments or questions to newsletter@gmavt.net.
The Green Mountain Access Team
Adam, Amanda, Eric, Jessica, Kris, Phil, Richard, Seth and Scott
---
Company News
Win a $50 Gift Certificate to Greenhaven Gardens and Nursery
Each month, we raffle off a prize from a local business, so be sure to enter your name every month for your chance to win. Congratulations to last month's winner, Joanna May who won a $50 gift certificate to Red Wagon Plants in Hinesburg. This month we have another great local prize, a $50 gift certificate to Greenhaven Gardens and Nursery in New Haven. To be entered into the raffle, simply click the link below and leave your name and contact information. The drawing will take place on May 20.
Click here to enter for your chance to win

Congratulations to our 2019 March Mania Contest Winners!
In the end it was Virginia beating Texas Tech … at the end of our 2019 WCVT March Mania contest it was:
1st Place – Walter Murphy – $200.00 American Flatbread in Waitsfield
2nd Place – Jacoby Hammitt – $100.00 Gift Certificate to the Bobcat Cafe in Bristol
3rd Place – Harry Schoppmann – $75.00 Gift Certificate to Stone Corral in Richmond
4th Place – Ella Myregaard – $50.00 Gift Certificate to Hinesburgh Public House in Hinesburg
5th Place – Douglas Thorburn – $30.00 Gift Certificate to the Red Mill Restaurant at Basin Harbor in Ferrisburgh
Congratulations winners and thanks to all our amazing local businesses for the great prizes! Hope everyone had fun playing our March Mania contest. Until next year folks … and we're onto baseball. Go Sox!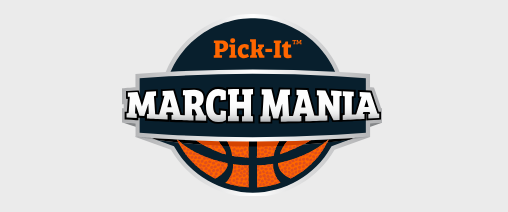 Check Out Our Spring Issue Of Business Connections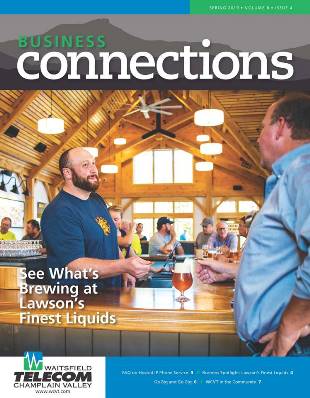 Be sure to check out our spring issue of our Business Connections magazine. This quarter we feature a Business Spotlight on Lawson's Finest Liquids. Sean and Karen Lawson took a huge leap forward with their nano-brewery business in October 2018, when they moved Lawson's Finest Liquids from a shed next to their home to a brewery, taproom, and retail store in Waitsfield. To keep data and conversations moving efficiently, Lawson's Finest Liquids uses our high-speed fiber internet, Business-Class Wi-Fi, and Hosted IP Phone Service. Give it a read and let us know what you think. Check out the latest issue here:
Self-Install Residential Wi-Fi Solution Available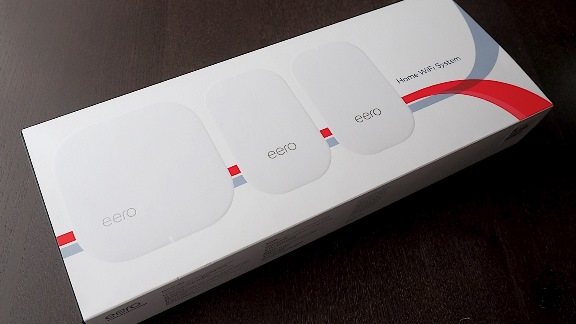 Our new self-install Whole Home Wi-Fi offering uses multiple access points and TrueMesh technology to cover every nook and cranny of your home in powerful and reliable Wi-Fi. With the eero app, you can set up your system in under 10 minutes. Start by plugging an eero directly into your modem, then the app will walk you through placing additional eero Beacons in your living room, bedrooms, kitchen, hallways, and more to bring Wi-Fi to every inch of your home. If your residence requires a more advanced set up, please ask about our professional, turn-key installation option.
Why eeros?
Better Coverage - Whole Home Wi-Fi improves coverage throughout your home using multiple access points to improve coverage and eliminate dead-spots.

Parental Controls - With the eero app in hand, you can see what's happening on your network, set parental controls, check device usage, share your network with friends, or even pause the internet.
Easy Self Installation - The eero setup process is quick and simple. Once your Home Wi-Fi System is up and running, eero takes care of its own troubleshooting and updates. No more manual router resetting.
How Much Does It Cost? Our eero Whole Home Wi-Fi solution starts at $10.90* per month for two eero Wi-Fi access points, or $15.95* per month for three eero Wi-Fi access points, which cover most installations. You can also choose to purchase your eero package from us.
Want To Learn More?
For more information, watch our video below or visit http://www.wcvt.com/services/wi-fi/residential to learn more about our Whole Home Wi-Fi or business Wi-Fi solutions. You can also give us a call at 800-496-3391 or send us an email and we'd be happy to discuss our solutions with you.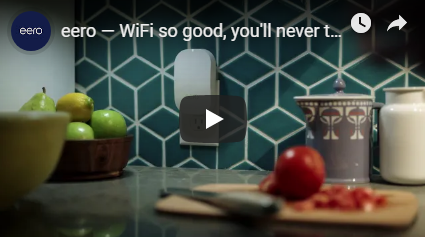 *Whole Home Wi-Fi equipment requires Green Mountain Access high-speed Internet service and a modem/router.
---
WCVT In The Community
Great Turnout For Annual Easter Egg Hunt
Thank you to everyone who attended this year's Mad River Valley Community Easter Egg Hunt. We had a great turnout again this year with more than 300 children attending the event. Once again the Easter Bunny made an appearance.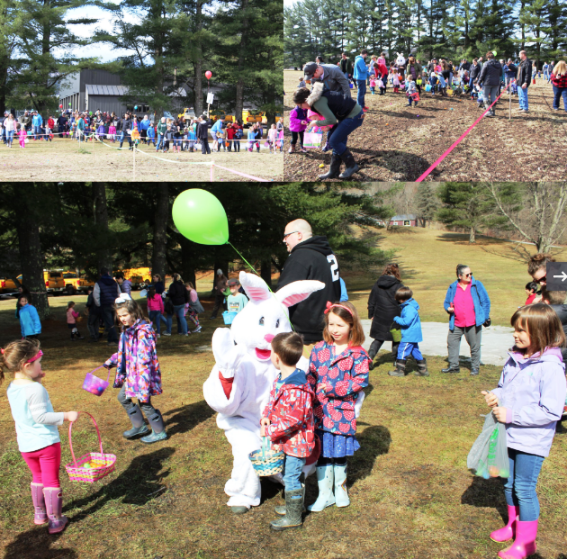 Being a local business means that our customers are also our neighbors and friends. At Waitsfield and Champlain Valley Telecom, we feel strongly that community involvement is not just a nice thing to do; it is the right thing to do. If you have a community service project in the making and are looking for help, contact Lorraine Keener at 496-8379 or via email lkeener@corp.wcvt.com to see if we can lend a hand.

---
Community Events
Hinesburg Community Yard Sale Day | May 11 | Hinesburg
The Hinesburg Business & Professional Association (HBPA) is once again sponsoring the 23rd annual Hinesburg Community Yard Sale on Saturday, May 11, from 8:00 a.m. to 1:00 p.m. The community sale site takes place at the Hinesburg Fire Station.
Big Truck Day | May 18 | Hinesburg
Vehicles of all kinds will roll into town for the Hinesburg Nursery School's Annual Big Truck Day and Children's Festival. Big Truck Day is a community event that lets youngsters and their families get up close to and even climb inside their favorite big trucks and vehicles. The action all takes place right behind Hinesburg Community School from 10:00 a.m. to 2:00 p.m. This year the lot will be packed with construction vehicles, a school bus, fire trucks and other rescue vehicles, tractors and utility vehicles for children of all ages to see, touch and explore. For more information, visit http://www.hinesburgnurseryschool.org/.
Baked Beads Fashion Accessory Sale | May 23 - 25 | Now In South Burlington
Annual Memorial Day Sale with lots of new merchandise. Thursday and Friday hours are 10:00 a.m. - 7:00 p.m. and 10:00 a.m. - 5:00 p.m. on Saturday. The event takes place at the Holiday Inn in Burlington. For more info, visit: www.bakedbeads.com.
---
Tutorial / FAQ
Stay Alert - Identity Thieves Are Targeting Medicare Recipients
Scammers like to take advantage of those who are most vulnerable, including senior citizens on Medicare. Knowing that Medicare has been sending out new cards, they may call you using one of several methods:
~ Pretending to be a Medicare representative and asking for  confirmation of your personal information, bank details, or Medicare number before "they" can send your new card.
~ Saying you'll be charged a fee if you don't provide certain information.
~ Offering you free equipment or services in exchange for your Medicare information.
~ Informing you of new policies or updates about Medicare, then asking for personal data.
Some of these calls may sound convincing and may even display Medicare phone numbers on your caller ID. But the only way to be sure is to initiate a call to Medicare yourself to find out how real they are.
Medicare will never ask for your personal information over the phone, so don't give this information to anyone who calls asking for it, even if they're offering you something in return. Instead, hang up, call Medicare at 1-800-MEDICARE yourself, and report the scam. You can also file a complaint with the Federal Trade Commission (FTC) https://www.ftc.gov/complaint.
Additionally, learn the truth about Medicare's card replacement initiative https://www.medicare.gov/forms-help-resources/identity-theft-protect-yourself.
With a healthy dose of skepticism, you won't be fooled by Medicare scammers.
Short Tutorial / FAQ - I'm Thinking About Getting A Smart Speaker Like Alexa. What Are Some Popular Ways To Use One?
Question: I've been hearing so much about smart speakers that I've started to think about getting one for myself. But I'm not sure how I would actually use it. What are the most popular uses of these devices?
Answer: Smart speakers, like Alexa-enabled Echo products or Google Home products, can perform a wide variety of functions. Here are just a few:
~ Play music. You can tell your smart speaker to play your favorite radio station. It can also play music from apps (called "skills") like Pandora.
~ Tell you the weather forecast or news updates. Just ask your speaker to tell you the weather forecast or news headlines, and it will do exactly that.
~ Set timers. You can use the smart speaker like a kitchen timer -- just ask it to set a timer for the amount of time you need.
~ Perform voice searches. This action is similar to doing a Google search on your computer, only you use your voice and get a voice response back.
~ Play games. Some of the skills include fun games like Jeopardy! or Twenty Questions.
~ Operate your smart home. Connect smart appliances, light bulbs, thermostats, and other items in your home to your smart device, then use your voice to command them.
~ Make phone calls. There are several ways you can make phone calls with your smart device, including linking it with your Skype account.
---
Sites of the Month
Noxious Weed Alert
https://www.weedalert.com/
Some weeds are just bothersome, while others are dangerous. This site can help you tell the difference. Search for weeds by name, appearance, or region. Or contact a tech advisor; these experts have over 50 years of combined experience and will give you reliable answers.
Roadtrippers
https://roadtrippers.com/
This site will help you make the most of your road trip, no matter where or when you're going. Just enter your starting and ending locations. Then explore places to stay or camp, sights, restaurants, and recreation opportunities along the way. Save your trip, share with friends, and enjoy your journey.
HGTV Smart Home 2019
https://www.hgtv.com/design/hgtv-smart-home
Visit this site to see photos and videos of the HGTV Smart Home 2019.
Like what you see? Vote for your favorite area and select the Shop tab to buy items displayed in the house. You can also sign up for email reminders to enter the HGTV Smart Home 2019 sweepstakes.
Barbecue Bible
https://barbecuebible.com/recipes/
The recipes on this site will make you the star of this year's BBQ season. Try Steakhouse Potatoes, Grilled Pizza, Barbecued Brussels Sprouts, or Chicken Souvlaki. Looking for something specific? Search the site by food category. You can also browse the Techniques section for tips and tricks for better barbecuing.
---
More...
Two to View - A Couple Amazing Videos You Don't Want to Miss
Amazing Urban Downhill Race - Watch from this biker's perspective as he races down the streets (and roofs, sidewalks, and walls!) of Valparaiso, Chile.
Adorable Boy Tells Mom How He Feels - With Mom in the hospital, this 4-year-old son wants to be sure she hears his heartwarming message: "Mom, we need you!"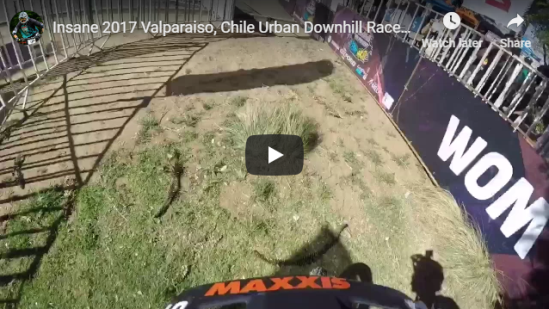 Go Pinterest-ing! - Cool Stuff to Pin on Your Pinterest Boards
Colorful And Fresh Spicy Shrimp Sushi
https://www.pinterest.com/pin/291537775876698333/

Rainbow Cupcakes Are Perfect For Spring
https://www.pinterest.com/pin/291537775877487678/

Pretty Bouquets Use Fruit And Flowers
https://www.pinterest.com/pin/291537775877487773/

You haven't started pinning on Pinterest yet and you want to get started? To sign up, go to www.pinterest.com.
Free Featured Apps - These Three are Well Worth the Look
TravelStorys - On your next natural or historical adventure, choose a tour, put on your headphones, and let TravelStorys be your guide. Learn More Here: https://www.travelstorys.com/
Hiya - This handy app provides an interface that tells you more about who's calling you than just a random phone number on your screen. Learn More Here: https://hiya.com/
NPR One - Perfect for public radio nerds, NPR One helps you keep up with your favorite programs and discover new ones, even on the go. Learn More Here: https://www.npr.org/documents/about/products/npr-one/.
---