May E-Newsletter
We think you'll find the information contained in this newsletter to be a valuable tool for enhancing your Internet experience. As always, we appreciate your feedback and suggestions. Please send your thoughts, comments or questions to newsletter@gmavt.net.
The Green Mountain Access Team
Adam, Amanda, Eric, Jason, Kris, Phil, Richard, Seth and Scott
---
Company News
Come See Us At The Vermont Business Expo
The Vermont Business Expo is scheduled for Thursday, May 24 at the DoubleTree by Hilton Hotel Burlington (formerly the Sheraton). Stop by and check out what's new in technology. Learn more about our more about our Hosted IP Phone Service, Business Class Wi-Fi solutions and more. EXPO is northern New England's largest business-to-business trade show. Entrance into the tradeshow is free as long as you pre-register on or before May 18. For more information and to register online, visit www.vtexpo.com.

Win a $50 Gift Certificate to The Store In Waitsfield
Each month, we raffle off a prize from a local business, so be sure to enter your name every month for your chance to win. Congratulations to last month's winner, Anna Lester of Monkton who won a gift certificate to Greenhaven Gardens and Nursery in New Haven. This month we have another great local prize, a $50 gift certificate to The Store in Waitsfield. To be entered into the raffle, simply click the link below and leave your name and contact information. The drawing will take place on May 21.
Click here to enter for your chance to win

Is It Time To Upgrade Your Businesses Phone System?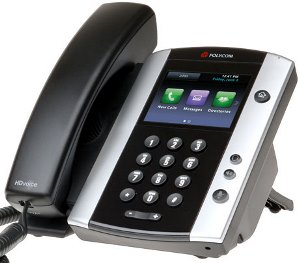 A reliable and easy to use phone system is essential for your business. With Hosted IP phone service from Waitsfield and Champlain Valley Telecom, you don't have to purchase, set up, or maintain your own phone system; we take care of that for you. Instead, you get a powerful, business-class phone system with expanded capabilities that will grow with you. Best of all, it is extremely flexible and affordable.
It's easy to switch to Hosted IP phone service. We'll do everything possible to make it a smooth, seamless transition for your business. Hosted IP phone service can be a smart choice for a small business all the way up to a large enterprise call center. What's more, the professional features of Hosted IP phone service can help a small business appear larger and more professional to its customers.

Want To Learn More?
Give me a call or send me an email for additional information or to schedule a live demo. Our team can help answer any questions you may have.
Kris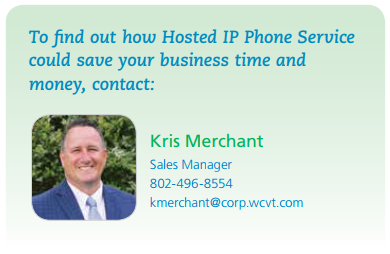 Looking For Better Wi-Fi?
Whole Home Wi-Fi from Green Mountain Access is designed to provide a reliable, secure, Wi-Fi network throughout your home.

Why It's Different
Unlike traditional Wi-Fi, which relies on a single access point (AP) to provide coverage, Whole Home Wi-Fi from Green Mountain Access utilizes multiple Access Points placed at strategic locations around your home to create an intelligent Mesh network that ensures consistent performance of high quality, whole-home Wi-Fi coverage. Each Wi-Fi access point connects to each other to act as a distributed, autonomous wireless network with a single SSID, traffic load balancing, and client and band steering. Steering technology ensures that all clients are pushed to the best access point and frequency band available at all times, countering the interference issues with 2.4 GHz.

Expand Coverage and Eliminate Dead Spots
Establishes a coordinated multi-AP Wi-Fi Network, extending Wi-Fi coverage throughout your home. Improved coverage and performance maximizes device connection speeds and overall and overall home Wi-Fi capacity by steering clients to different access points and Wi-Fi bands/channels.
Pricing
Whole Home Wi-Fi from Green Mountain Access is just $10.90* per month and includes two AirTies 4920 ac Wi-Fi access points. Additional Wi-Fi access points can be added for $5.45* per month for each additional access point if needed for your specific installation.
We also offer a full range of residential and business class Wi-Fi solutions from leading manufacturers including AirTies, Ubiquity and Ruckus. Want to learn more? Contact Richard at 496-8360
*Whole Home Wi-Fi equipment requires Green Mountain Access high-speed Internet service and a modem/router. One-time $100 installation fee applies.

---
WCVT In The Community
WCVT Employees Complete CPR Training
All WCVT employees recently completed the American Heart Association CPR certification course. Thank you to the Mad River Valley Ambulance service instructors for doing a great job with our training.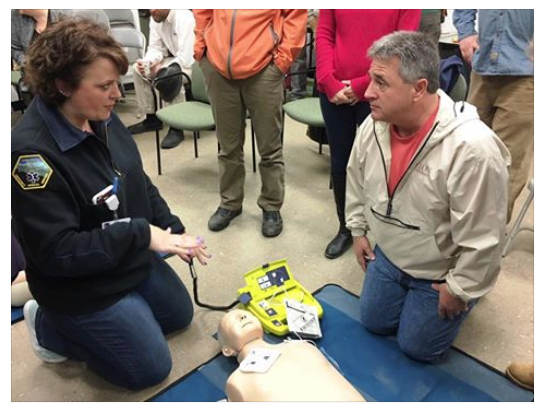 WCVT Co-Hosted Addison County Chamber Mixer In Bristol
WCVT co-hosted an Addison County Chamber Mixer at Art on Main in Bristol on April 19th. We had a great turn-out for the event which was catered by Katie Baas of Lucky Star Catering in Starksboro.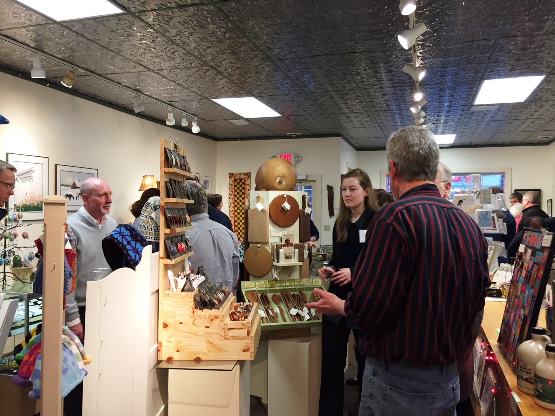 Waitsfield and Champlain Valley Telecom provides each employee with sixteen hours of community service time yearly to be used on local service projects. If your organization has a project in the making and is looking for help, contact Lorraine Keener at 496-8379 or lkeener@corp.wcvt.com to discuss the possibilities of WCVT participation.

---
Community Events
Hinesburg Community Yard Sale Day | May 12 | Hinesburg
The Hinesburg Business & Professional Association (HBPA) is once again sponsoring the 21st annual Hinesburg Community Yard Sale on Saturday, May 13, from 8:00 a.m. to 1:00 p.m. The community sale site takes place at the Hinesburg Fire Station. For further information visit, https://www.facebook.com/events/160489551292402/.
Big Truck Day | May 19 | Hinesburg
Vehicles of all kinds will roll into town for the Hinesburg Nursery School's Annual Big Truck Day and Children's Festival. Big Truck Day is a community event that lets youngsters and their families get up close to and even climb inside their favorite big trucks and vehicles. The action all takes place right behind Hinesburg Community School from 9:45 a.m. to 2 p.m. This year the lot will be packed with construction vehicles, a school bus, fire trucks and other rescue vehicles, tractors and utility vehicles for children of all ages to see, touch and explore. For more information, visit http://www.hinesburgnurseryschool.org/.
Baked Beads Fashion Accessory Sale | May 24 - 26 | Now In South Burlington
Annual Memorial Day Sale with lots of new merchandise - 75% off retail. Thursday, May 24 - Saturday May 26, 10:00 a.m. - 7:00 p.m. Thursday and Friday and 10:00am - 5:00 p.m., at the Holiday Inn Burlington. For more info, visit: www.bakedbeads.com.
---
Tutorial / FAQ
Stay Alert - Scams Target Previous Victims
Here's another scam to watch out for, this one supposedly from a company you might know and trust. Say you had a tech issue a couple of months ago and used tech support services to resolve it. Now someone claiming to be from that service provider calls you to ask if you were satisfied with the service. If you say "No," the scammer asks for your banking or credit card information to issue a "refund." (If you say "Yes," they might claim they're issuing refunds because they're going out of business.) But, instead of putting money into your account, they take it out.
How do you avoid this type of scam?
~ If you have any doubts about a caller, say you'll call them back, hang up, and call a number from that company that you already know is legitimate.
~ Don't give in to pressure to be polite or complete the transaction quickly.
~ An actual company that you do business with will likely already have your credit card information, so there shouldn't be any reason you would need to give this information to someone.
When in doubt, think about situations when you've been asked about service you've received in the past. If something doesn't seem right, hang up immediately and consider reporting the matter to the Federal Trade Commission (FTC) at http://ftc.gov/complaint.
Short Tutorial / FAQ - In Light Of Facebook's Cambridge Analytica Situation, What Should I Do To Help Protect My Data?
Question: Facebook told me my data wasn't shared with Cambridge Analytica, which is a relief. But now I'm spooked. What's to keep other bad actors from collecting it, and how do I prevent that from happening?
Answer: As has always been the case with keeping your data private on Facebook, the key lies in the application's settings. If you choose to continue using Facebook, take the following precautions to keep your data safe.
1. On your Facebook home page, click the down-arrow in the upper-right corner of the screen. From the list, select Settings.
2. In the left column, click Apps and Websites.
3. Review the apps and websites Facebook has access to, and follow the instructions to remove those you no longer use or don't trust.
4. Now, back in the left column, select Ads.
5. Follow the instructions to adjust how Facebook targets ads to you.
6. While you're at it, go through the other areas in the left column, including Security and Login, Privacy, and Timeline and Tagging, to make sure these settings are as you want them.
7. Now might also be a good time to go through your friend list and remove those people you don't really know or communicate with.
8. Finally, be choosy about what you click on within Facebook. Cambridge Analytica was able to gather data from users who clicked on an innocent-seeming personality quiz.
Remember, though, the best way to protect your data is to limit how much you provide in the first place. Sharing many details of your life may be fun, but no privacy setting on a social media platform is completely foolproof.
---
Sites of the Month
Best Burger Recipes
https://www.foodnetwork.com/grilling/grilling-central-burgers-and-hot-dogs/articles/50-burger-recipes
May 28 is not only Memorial Day, but also National Hamburger Day!
Celebrate by firing up your grill and creating your favorite recipe or trying a new idea from this mouth-watering collection. Try the Juicy Lucy, the Huntsman, the Asian, the Taco, the Middle Eastern, the Thanksgiving, or the California Mix.
Stories of WWII Heroes
http://www.heroesofthesecondworldwar.org/
World War II has been over for decades, but the stories and lessons are still very much a part of our world. The organization Heroes of the Second World War aims to film interviews with all the WWII combat veterans still alive and pass their wisdom on to future generations.
Tour HGTV 2018 Smart Home
https://www.hgtv.com/design/hgtv-smart-home/2018/galleries
The HGTV 2018 Smart Home gallery reveals great ideas for every room in (and around!) the house. From big structural designs to the smallest details, you're sure to get inspiration for your kitchen, yard, bathroom, and more. Click the Sweepstakes tab to enter for a chance to win the house.
Create With Silk
http://weavesilk.com/
Make something beautiful in just seconds by going to this site and using your mouse to start drawing. The interface creates a lovely silk-inspired design that you can save or share. Click the Controls icon to experiment with colors and symmetry points. Then click the New button to start again.
---
More...
Two to View - A Couple Amazing Videos You Don't Want to Miss
"Epic or Fail" on Ellen- Audience members claim they can limbo on roller skates and other amazing feats. Watch to find out if they do.
GoPro Best of 2017 - GoPro videos are always amazing. From underwater adventures to exciting cityscapes, check out this collection of highlights.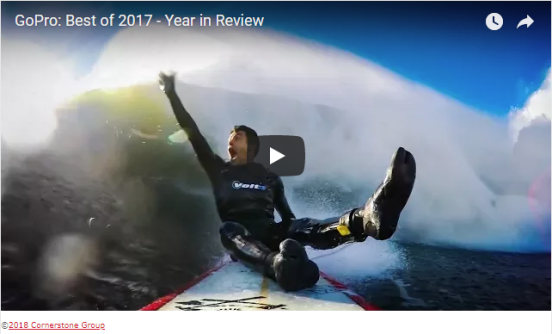 Go Pinterest-ing! - Cool Stuff to Pin on Your Pinterest Boards
Easy & Inexpensive Jar Herb Garden
https://www.pinterest.com/pin/291537775871879619/
Pretty Handmade Spring Wreath Ideas
https://www.pinterest.com/pin/291537775871900464/
Moist and Flavorful Fruity Layer Cake
https://www.pinterest.com/pin/181481059965973779/
You haven't started pinning on Pinterest yet and you want to get started? To sign up, go to www.pinterest.com.
Free Featured Apps - These Three are Well Worth the Look
Fandango
Movie lovers, this app lets you find where the films you want to see are playing, then buy tickets right from your phone. Learn More Here: https://www.fandango.com/mobilemovietickets
Instagram
Not yet on Instagram? Maybe it's time to give it a try. See what your friends are doing through the magic of images and videos. Learn More Here: https://www.instagram.com/?hl=en
---