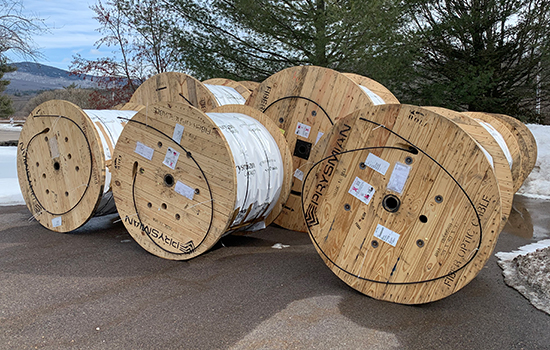 It's definitely beginning to feel like Spring in Vermont. Longer and warmer days followed by cold nights are sure signs of the beginning of maple sugaring season. If ever there was a time when the importance of fast and reliable internet service became clear, it was 2020. The pandemic rapidly expanded the need for rural broadband and highlighted the critical role it plays for WCVT customers and the communities we serve. For many of us, our homes became everything last year — a workplace, school, library, movie theater, gym, shopping center, and location for accessing telehealth services.

As a local, family-owned business in Vermont, WCVT believes it's our civic duty to do everything possible to maintain the connections between people and vital online resources. The internet is serving as a lifeline during the pandemic, and its usage will only keep growing in the years ahead. To meet this demand, we're continuing to make record capital investments in our fiber network.

In 2021, we'll invest almost $9 million dollars to continue to convert as many customer locations to fiber optics as we can. WCVT is also aggressively applying for additional state and federal funds to augment our own investments in fiber optics.

We realize we can't get to everyone overnight, but please know that every single dollar we invest in fiber is benefiting Vermont and the local communities we serve. Building a fiber-to-the-home network in rural areas of our state is not easy and takes time and extensive capital. We thank you for your continued support and for your patience and understanding as we evolve our network.

Thank you for being a customer of Waitsfield and Champlain Valley Telecom.

Sincerely,

Eric Haskin
President and CEO
Waitsfield and Champlain Valley Telecom


---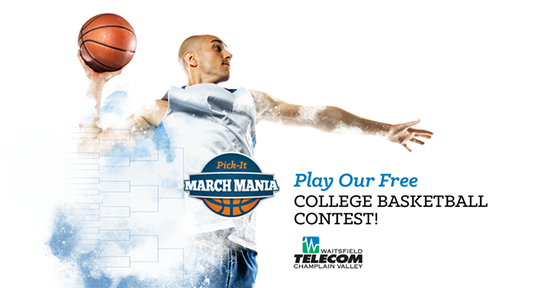 Play Our March Mania Contest For Your Chance To Win Some Great Local Prizes!

It's time for March Mania! We invite you to have some fun with this free basketball contest. Simply make your picks for the upcoming NCAA Men's Basketball tournament games, fill out your online bracket, then have fun watching how your picks measure up. It's easy to enter, free to play and you will have the chance to win some great prizes.
Get a head start and sign up to participate in the contest now! Pre-register for the contest here: 2021 WCVT March Mania.

Your bracket will be available to complete after Selection Sunday, March 14, when the NCAA announces which teams will be participating in the tournament, and will be open for picks until Friday, March 19, five minutes before the first game begins that day.

Have fun and good luck!


---
Win a One-Hour Personal Training Session and Day Pass at the Shelburne Athletic Club!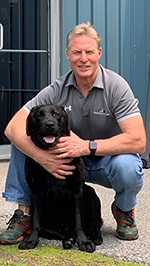 Each month, we raffle off a prize from a local business, so be sure to enter your name every month for your chance to win. This month we are raffling off a One-Hour Personal Training Session with Rayne Herzog at the Shelburne Athletic Club (day pass included - $80.00 value). Rayne has been a successful Certified Personal Trainer, Life Coach, and health club General Manager for the past 30 years. His success as a trainer can be attributed to; extensive training knowledge, his overall positive and energetic approach, as well as his ability to motivate. In addition, he can design an individual or group program.

To be entered into the raffle, simply click the link below and leave your name and contact information. The drawing will take place on March 15th.

Click Here To Enter For Your Chance To Win


---

Sign-Up For Our "Let's Talk Wi-Fi – Tips, Tricks and Solutions" Webinar!

As we continue to work and learn from home, the number of devices connecting to our Wi-Fi networks has significantly increased. Laptops, smart phones, tablets, gaming devices and smart TV's all connect to the Internet simultaneously via your home's Wi-Fi network. What you think may be a speed issue, may actually be limitations in your Wi-Fi network. This webinar is designed to give you some great tips on making sure your Wi-Fi is working properly in your home.

To RSVP for a webinar, click on the appropriate link below to indicate which webinar you would like to attend.



---

Waitsfield and Champlain Valley Telecom Encourages Students to Apply for James L. Bass Legal Scholarship

The Foundation for Rural Service (FRS) recently announced the James L. Bass Legal Scholarship, a new scholarship for students with an interest in rural communities entering their first year of law school. FRS is the philanthropic arm of NTCA–The Rural Broadband Association, of which Waitsfield and Champlain Valley Telecom is a member.

With an active law career that spanned more than 70 years, James Bass helped secure funds for rural telephone systems to bring modern telephone service to rural areas. He was pivotal in the creation of NTCA, where he served as one of the organization's earliest presidents. Bass continued his leadership with service for more than 50 years as legal counsel.

Recognizing Bass's impact to the industry and his passion for the legal profession, the NTCA Board of Directors established a scholarship for students with an interest in rural communities to attend law school. The first James L. Bass Legal Scholarship will be awarded in spring 2021 and will be at least $5,000.

"Jim was not only a founding member of NTCA, he was a guiding light for our association through much of his lifetime," said Shirley Bloomfield, Chief Executive Officer of NTCA. "He spent his last years in service to the association as our general counsel where he helped guide our national board through growth and transformation. How fitting it is to honor him with a law school scholarship recognizing not only his passion for rural America but for the legal profession as well. My sincere thanks to all the NTCA members who so generously donated in Jim's memory." Waitsfield and Champlain Valley Telecom encourages any prospective law school students who live in our service area to apply for this generous scholarship through FRS.

The deadline to be considered for the spring 2021 James L. Bass Scholarship is April 16, 2021. Application materials and more information about the scholarship can be found here https://www.frs.org/programs/james-l-bass-legal-scholarship.