March E-Newsletter
We think you'll find the information contained in this newsletter to be a valuable tool for enhancing your Internet experience. As always, we appreciate your feedback and suggestions. Please send your thoughts, comments or questions to newsletter@gmavt.net.
The Green Mountain Access Team
Adam, Amanda, Eric, Jason, Kris, Phil, Richard, Seth and Scott
---
Company News
Join the Fun – Play the WCVT March Mania Challenge for A Chance to Win Great Local Prizes

It's time for March Mania! We invite you to have some fun with this free basketball contest. Simply make your picks for the upcoming NCAA Men's Basketball tournament games, fill out your online bracket, then have fun watching how your picks measure up. It's easy to enter and free to play. All March Mania participants have the chance to win some great prizes. Have fun and good luck!
Be sure to sign up by March 14th!
Prizes include gift certificates to the following local businesses:
First Place - $200 Von Trapp Gardens in Waitsfield
Second Place - $100 Richmond Market in Richmond
Third Place - $75 Red Wagon Plants in Hinesburg
Fourth Place - $50 Horsford's Gardens and Nursery in Charlotte
Fifth Place - $30 Bristol Cliffs Cafe in Bristol
Win a $50 Gift Certificate To Hinesburgh Public House
Each month, we raffle off a prize from a local business, so be sure to enter your name every month for your chance to win. This month we are raffling off a $50 gift certificate to the Hinesburgh Public House. To be entered into the raffle, simply click the link below and leave your name and contact information. The drawing will take place on March 20th.
Click here to enter for your chance to win
Don't Settle For Yesterday's Internet Speeds...
...when you have a home full of today's devices. Upgrade now to get your hands on the speed you need for maximum enjoyment when multiple people are streaming, downloading, gaming and more. Try Faster Speeds FREE For 60 Days. To see if higher speeds are available at your location, click here. Give us a call at (802)-496-3391 or email us to learn more.
What is bandwidth and what does it mean to your Internet speeds? Watch our video to learn more.
Looking For A Better Wi-Fi Solution?
Wi-Fi is a critical part of your business network that you rely on each and every day. In today's business environment, you need a reliable, secure Wi-Fi solution that provides the connectivity your employees, guests, and customers expect. 

At Green Mountain Access, we offer a full range of residential and business class Wi-Fi solutions from leading manufacturers including AirTies, Ubiquity and Ruckus.
Our Whole Home Wi-Fi uses multiple Access Points placed at strategic locations around your home to expand coverage, eliminating dead spots, and providing great performance for all of your streaming devices.
Have a question, or want additional information, visit http://www.wcvt.com/services/wi-fi/ or contact Richard at 496-8360 to learn more about our Whole Home Wi-Fi or business class Wi-Fi solutions.

WCVT

Helped Tap Trees At The Green Mountain Audubon Center
A crew of WCVT employees spent the day at the Green Mountain Audubon Center in Huntington in late February and helped prepare for this year's sugaring season. Employees trekked through the sugar bush with drills in hand and sleds full of buckets and tapped 500+ trees the old fashioned way. The Audubon Center has a working, traditional maple sugaring operation that produces between 50-75 gallons of syrup each year. Thousands of people visit the Center's sugaring operation annually to learn about their wood-fired, bird-friendly process of maple sugaring.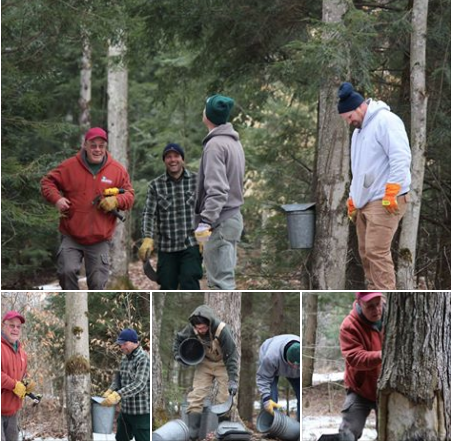 WCVT to Hold Blood Drive on Tuesday, March 27
Waitsfield and Champlain Valley Telecom will hold a Red Cross blood drive from 11:30 AM to 5:00 PM at our main business office located at 3898 Main Street in Waitsfield (across from Waitsfield Elementary School). For more information, please call 496-3391 or contact the Red Cross at 1-800-GIVE-LIFE or online at www.redcrossblood.org.
Waitsfield and Champlain Valley Telecom provides each employee with sixteen hours of community service time yearly to be used on local service projects. If your organization has a project in the making and is looking for help, contact Lorraine Keener at 496-8379 or lkeener@corp.wcvt.com to discuss the possibilities of WCVT participation.

---
Community Events
Bolton Valley Resort – Vermont Land Trust Ski & Snowshoe Tours – Sunday, March 11
Come explore some of the 1,100+ acres that Vermont Land Trust protected in 2013 and see why the community rallied to the cause of saving this special place. Join VLT, the Catamount Trail Association, Bolton Friends, and the Green Mountain Club for a day of ski and snowshoe tours followed by an après-ski gathering. Sunday, March 11 from 2 pm – 6 pm (après ski begins at 4 pm). Cost: $15 for adults, FREE for children 12 and under. All participants will need to purchase a $5 Bolton trail pass at the Nordic Center the day of the event unless they hold a season pass. For more information, visit: http://www.boltonvalley.com/events-and-activities/events-calendar/vermont-land-trust-tours-1778
Dakin Farm Sugar on Snow Festival – March 24-25 and March 31
It wouldn't be spring at Dakin Farm without Sugar on Snow! On Saturday, March 24-25th and March 31, Dakin Farm will host their annual spring maple events at their Ferrisburgh and South Burlington locations.
More event details can be found online at http://www.dakinfarm.com/2018-Sugar-On-Snow.dlp.
WCVT to Hold Mad River Valley Community Egg Hunt on Saturday, March 24th
Mark your calendars for Saturday, April 8th when we will hold our annual Mad River Valley Community Easter Egg Hunt. The egg hunt will start promptly at 10:00 AM. Refreshments will be available beginning at 9:30 AM. The event will be held at the Waitsfield and Champlain Valley Telecom business office located on Route 100. The egg hunt is open to children of all ages and is free of charge.
For more information, please contact Lorraine Keener at 496-3391 or via e-mail at lkeener@wcvt.com.
---
Tutorial / FAQ
Stay Alert - Latest Facebook Hoax
Spoofed Facebook Accounts It seems scammers have an endless supply of ways to trick you on Facebook. The latest hoax is being performed with the intention of disrupting your device. Here's how they do it:
1. They post something that a lot of people are likely to like and share, and encourage you to do so.
2. After a certain number of likes and shares are accumulated, they change the post so it contains malicious content.
3. At this point, if you like it, everything from that poster starts showing up in your feed.
This process is called like-farming, and clicking the wrong like button or link can cause serious damage to your device.
The latest message going around is something like this: "Facebook's algorithm is now choosing only 25 people to be viewable in your feed. I want you to keep seeing my posts, so please like or share this and let everyone know!" See how it gives you something to be afraid of and rallies viewers against Facebook to generate likes? Other types of messages can include an offer to win a prize if you like or share.
Don't fall for Facebook hoaxes. Remember these tips to help stay safe:
~ Be very judicious about what you like and share on Facebook. Don't automatically like everything.
~ Notice where the post is coming from. If you don't recognize the person, don't interact.
~ If the post promises you anything for liking or sharing, or even if you just feel pressured to do so, you can bet it's probably a scam.
If you do see fake posts, you can report them to Facebook by clicking the down-arrow in the top right corner of a post, clicking Report, and following the instructions from there.
Short Tutorial / FAQ - Is Chrome's Incognito Mode Really Private?
Question: A friend told me about Chrome's Incognito mode. Does it allow me to search without being tracked? Is it truly private?
Answer: Chrome's Incognito mode prevents the websites you visit from being held in your browsing history, and cookies and site data are deleted when you close Incognito mode. So, if you're looking for a way to hide your online activities from your internet service provider, or your employer or school -- or if you want to keep the sites you visit from sharing information about your browsing -- Incognito mode isn't it.
Having said that, there are good uses for Incognito mode. For example, if you allow a friend to borrow your computer to check their email, you can have them open an Incognito window so their browsing doesn't get mixed up with yours, and you don't have to log out of Google. Additionally, having cookies and extensions disabled can reduce the chance of being attacked by a malicious app.
If you really need more privacy, think about setting up a virtual private network (VPN). While there are no guarantees about privacy online, a VPN does mask your physical location and IP address from the sites you visit.
Chrome has a couple of VPN extensions called ZenMate and Hola. If you want to get out of Chrome entirely, try the Tor browser, which is specifically designed to hide user identities.
---
Sites of the Month
Helpful Nutrition Tips
http://www.eatright.org/
March is National Nutrition Month -- a great time to recommit to healthy eating. On this Academy of Nutrition and Dietetics site, check out special information for kids, parents, men, women, and seniors. Read helpful articles like "How to Handle Food Cravings" and "Kick Bad Eating Habits to the Curb."
Design Your Dream Garden
https://www.bhg.com/gardening/design/nature-lovers/welcome-to-plan-a-garden/
For anyone who loves digging in the dirt, this site will make your garden planning easier than ever. Step 1, pick a scene such as the front of your house. Step 2, add plants and other elements to your design. Step 3, make it happen in the real world!
Genius Cooking Ideas
http://www.geniuskitchen.com
Other food sites have recipes and cooking videos, but we're guessing no others will tell you the 17 Ways to Eat Chocolate for Breakfast or how to make Oven-Fried Chicken Sliders. Be sure to check out the Comfort Food section for 25 Genius Uses for Potato Chips and much more.
Get Help With Taxes
https://www.usa.gov/help-with-taxes
Get ahead of your taxes this year with help from the professionals. This page offers links to tools, forms and publications, resources, and tips for choosing a tax preparer. Don't leave before finding out if you're eligible for the Volunteer Income Tax Assistance or Tax Counseling for the Elderly programs.
---
More...
Two to View - A Couple Amazing Videos You Don't Want to Miss
Skiing the World - In this astounding video, freeskiier Candide Thovex skis on just about everything but snow, against scenic backdrops around the globe.
Marble Music Machine - Ready for today's OMG moment? This musical instrument plays the xylophone, guitar, and drums using a crank and 2,000 marbles.
Go Pinterest-ing! - Cool Stuff to Pin on Your Pinterest Boards
Cinnamon Sugar Soft Pretzel Treat
https://www.pinterest.com/pin/Aed4Kk
_a2IlWghraCvjCq9Be4P7boZjVxDk9jQaQkCg3Aga6BGJIS3c/
30 Tutorials To Make Pretty Bracelets
https://www.pinterest.com/pin/AcDF_897KuIp
_udd0WazbEFLrPGVatDpNB4I-CexYsYST8M9kPKJAiI/
Spicy & Delicious Shrimp Sushi Stacks
https://www.pinterest.com/pin/AeeS-DiKqcaM6-PlYjWN84M4fVZ
aIHD6lyTFE-9FuzvTcJAAaUiTbv0/
You haven't started pinning on Pinterest yet and you want to get started? To sign up, go to www.pinterest.com.
Free Featured Apps - These Three are Well Worth the Look
Google Arts & Culture - Calling all art buffs! Take virtual museum tours, search for your favorite works, or have your selfie paired with a painting it most resembles.
Splitwise - Now it's easy to split expenses with others for movie tickets, utility bills, and vacation costs, or remember you owe someone lunch.
Socratic - Students will want to download this one. Just snap a picture of your homework question and get answers from online smarties.
---