Green Mountain Access is launching our new website. You will notice a new look and feel, but best of all, we've added additional functionality that we hope you will enjoy. Our goal is to provide you with the best "user experience." In addition to being able to login to your webmail, you now also have the ability to login to the new Application Portal (see below). After clicking the "Go To Application Portal" button, you will find additional features including quick access to your Google Apps stats, Mail, Calendar, Drive, Weather, Speed Test and more. Please don't hesitate to give us a call with any questions. We hope you like the new site!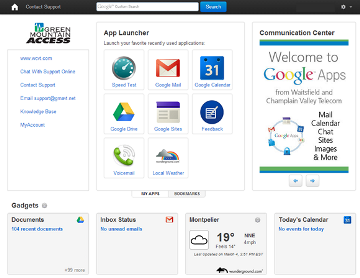 ---
Join the fun – Play the WCVT March Mania Challenge for Your Chance to Win Prizes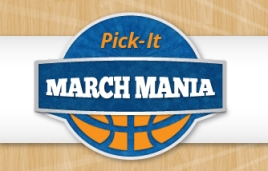 This free contest invites you to pick the winners of the NCAA Men's Basketball Championship Tournament games and then see how your picks measure up against other basketball fans in our community. All participants have the chance to win some great prizes – no basketball experience necessary!
Pre-register to play today. We will send you an email once brackets become available for selection (after Selection Sunday, March 16th when the NCAA Men's Basketball Championship Tournament brackets become available). Then you can fill out your bracket and hope your picks win you a great prize. Once you have made your picks, the fun begins. We'll keep you updated how your basketball knowledge (or luck) measures up against others in our community. Be sure to sign up and make your picks by March 19! Prizes include the following:
- Grand Prize: $200 Basin Harbor Gift Certificate
- Second Prize: $50 Greenhaven Gardens (New Haven) Gift Certificate
- Third Prize: $40 Cubbers (Bristol) Gift Certificate
- Fourth Prize: $30 Automotion (Hinesburg) Gift Certificate
- Fifth Prize: $25 Bridge Street Café (Richmond) Gift Certificate
- Sixth Prize: $20 Mad Taco (Waitsfield) Gift Certificate
---
WCVT Celebrating 110 Years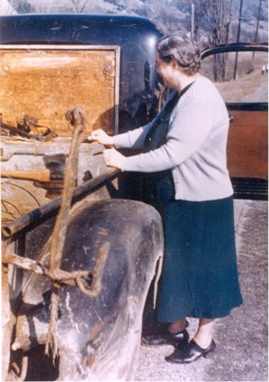 This year marks our 110th anniversary. What better way to celebrate than take a step back into time and honor our history. We'll start with featuring a story on Eunice Farr, grandmother of current president Gregg Haskin. This is the first feature in our three part series celebrating the company's 110th anniversary. We hope you enjoy a stroll down memory lane.
"She even climbed poles …"
Eunice Florence (Buzzell) Farr — Eunice Farr, grandmother of current president Gregg Haskin — was born in Warren, Vermont on December 13, 1898. When her husband, Alton Farr, died in 1940, Eunice took over managing the telephone company by herself. This was a notable feat in an industry and era clearly dominated by men and made her one of the first women to run a utility company in the U.S.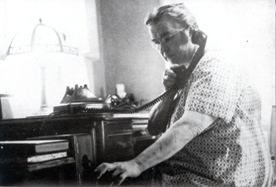 During her stewardship, the responsibility to repair, maintain, install, and troubleshoot the entire telephone system fell on her. Over the years, she developed an advanced understanding of every aspect of the telephone business. It was not uncommon for Eunice to be seen performing maintenance on the outside plant. Wearing her house dress and apron, she would venture out in the old truck to untangle lines, replace batteries, or install a new phone for someone. One Valley resident claimed that "she even climbed poles," but Eunice adamantly denied this.
Eunice remained president of the telephone company until her death in 1965. Many of the philosophies she developed are ingrained in the way Waitsfield and Champlain Valley Telecom operates today.
---
Win A $50 Gift Certificate To The Elusive Moose

Each month, we raffle off a prize from a local business, so be sure to enter your name every month for your chance to win. Congratulations to Pat Apigian of Waitsfield who won last month's prize, a cooking class for two at The Store in Waitsfield. This month, we have another great prize courtesy of the Elusive Moose in Waitsfield. For more information, visit them on Facebook at https://www.facebook.com/theelusivemoose or give them a call at 496-6444. The drawing will take place on March 24.

Click here to enter for your chance to win a $50 gift certificate to The Elusive Moose.
---
WCVT In The Community

Volunteering at the Green Mountain Audubon Society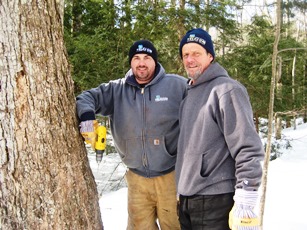 WCVT employees Tom Shatney and Mark Senecal worked with the Green Mountain Audubon society in Huntington as part of a volunteer group helping to tap their sugar bush (the traditional way).
Lending a Hand at the Hinesburg Food Shelf
Patricia Labnon and Liz Douillard spent a Friday morning working at the Hinesburg Food Shelf, where they assisted in stocking the shelves and offering a helping hand to those in need.
WCVT to Hold Blood Drive on Tuesday, March 25th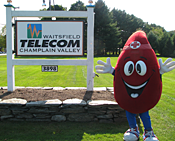 Waitsfield and Champlain Valley Telecom will hold a Red Cross blood drive from 12:00 p.m. to 5:30 p.m. at our main business office located on Route 100 in Waitsfield (across from Waitsfield Elementary School). For more information, please call 496-3391 or contact the Red Cross at 1-800-GIVE-LIFE or online at www.redcrossblood.org.
Being a local business means that our customers are also our neighbors and friends. At Waitsfield and Champlain Valley Telecom, we feel strongly that community involvement is not just a nice thing to do; it is the right thing to do. If you have a community service project in the making and are looking for help, contact Alan Jones at 496-8328 or via email ajones@wcvt.com to see if we can lend a hand.
---
And The Winner Of One Free Month Of High-Speed Internet Service Is...

Congratulations Vince Crockenberg for being this month's winner of one free month of high-speed Internet service. Vince's name was chosen at random from customers who completed our monthly Green Mountain Access technical support surveys.
Each month, one name is selected at random from customers who complete our online technical support or new user surveys. Survey requests are sent out via e-mail to customers after calling technical support or establishing new service. So be sure to fill out those surveys!
---
Two to View — A Couple Of Amazing Videos You Don't Want To Miss

Coca-Cola Happiness Machine
click here for video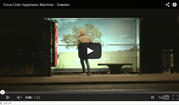 Watch the fun reactions on the faces of people when they're surprised by a special Coke machine at a bus stop in Sweden. The machine displayed large images of summer scenes during the dead of winter.
Tips For Growing Giant Tomatoes
click here for video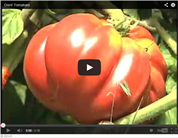 The Three-Minute Gardener, Marvin Meisner, shares his tips for how to grow giant tomatoes. He takes you through the steps of choosing the right tomato variety, preparing the soil, watering, pruning, and plant support.
---
Go Pinterest-ing! - Cool Stuff To Pin On Your Pinterest Boards
Pinterest is a pinboard-style photo-sharing website that allows users to create and manage theme-based image collections such as events, interests, and hobbies. Users can browse other pinboards for images, 're-pin' images to their own pinboards, or 'like' photos. Here are some links to some:
Try Yummy Tomato Butternut Squash Soup
http://www.pinterest.com/pin/291537775850347718/
Sliding Barn Door Adds Cool Country Touch
http://www.pinterest.com/pin/291537775850074822/
This Baby Giraffe Is Too Cute For Words
http://www.pinterest.com/pin/291537775850347890/
You haven't started pinning on Pinterest yet and you want to get started? To learn more visit http://about.pinterest.com/basics/ or to sign up, go here https://pinterest.com/join/signup/.