June E-Newsletter
We think you'll find the information contained in this newsletter to be a valuable tool for enhancing your Internet experience. As always, we appreciate your feedback and suggestions. Please send your thoughts, comments or questions to newsletter@gmavt.net.
The Green Mountain Access Team
Adam, Amanda, Eric, Jason, Kris, Phil, Richard, Seth and Scott
---
Company News
Do You have a Non Green Mountain Access Provided Router Or Storage Device In Your Network? Read This...
You may have heard in the news that a new type of malware targeting a wide range of popular consumer routers, and network storage devices was recently identified. VPNFilter, as it's been named, is a malware targeted at these devices. At this time, none of the devices that Green Mountain Access provides to our customers were identified as being susceptible to this malware. Symantec has published a very informative article on this subject if you are looking for additional information. https://www.symantec.com/blogs/threat-intelligence/vpnfilter-iot-malware. Here is the latest list of devices known to be infected:
Linksys E1200
Linksys E2500
Linksys WRVS4400N
Mikrotik RouterOS for Cloud Core Routers: Versions 1016, 1036, and 1072
Netgear DGN2200
Netgear R6400
Netgear R7000
Netgear R8000
Netgear WNR1000
Netgear WNR2000
QNAP TS251
QNAP TS439 Pro
Other QNAP NAS devices running QTS software
TP-Link R600VPN
If you have one of the identified devices, it is important that you a) reboot it immediately, and b) upgrade the firmware as soon as possible. It is always best practice to keep all of your devices up-to-date with the latest firmware and security updates. In addition, we highly recommend running local antivirus and security software on your computers and devices. If you have any questions, don't hesitate to contact Tech Support at 888-321-0815 or support@gmavt.net.
Looking For A Better Wi-Fi Solution?
Wi-Fi is a critical part of your business network that you rely on each and every day. In today's business environment, you need a reliable, secure Wi-Fi solution that provides the connectivity your employees, guests, and customers expect. 

At Green Mountain Access, we offer a full range of residential and business class Wi-Fi solutions from leading manufacturers including AirTies, Ubiquity and Ruckus.
Our Whole Home Wi-Fi uses multiple Access Points placed at strategic locations around your home to expand coverage, eliminating
dead spots, and providing great performance for all of your streaming devices.
Have a question, or want additional information, visit http://www.wcvt.com/services/wi-fi/ or contact Richard at 496-8360 to learn more about our Whole Home Wi-Fi or business class Wi-Fi solutions.

Tips For Protecting Your Modem / Router During Lightning Season
During the summer months we see a major increase in the number of router problems due to lightning storms. It is very important to protect your DSL modem / router from the power fluctuations that occur during these storms. We highly recommend that your DSL modem / router be connected to at minimum, a "computer grade" surge protector. Even better protection is provided by an Uninterruptible Power Supply (UPS). A UPS is essentially a battery that is placed between the wall outlet and your computer. It provides constant power to your computer and even allows it to run for a short time after a power outage, giving you time to save your work and properly shut down your computer. While a surge protector and UPS will help protect your computer during a lightning storm, keep in mind the best and cheapest protection is to simply unplug your electronic devices and DSL modem from both the electrical outlet and telephone jack during severe storms.
We highly recommend staying away from less expensive surge protectors that are not specifically designed for use with sensitive electronics and computer equipment. Some surge protectors are single use units, and if the unit sustains a power surge (i.e. lighting, power spikes, etc.) it may not protect against future surges. In addition, a surge protector will not protect against the power dips that occur during these storms. Often times your computer equipment will not experience immediate failure, but the damage has been done and will appear further down the road.
Check Out The Spring Issue Of Our Business Connections Magazine
The latest issue of our Business Connections Magazine is hot off the press and out for mail delivery. This issue spotlights Mountain Health Center in Bristol, and includes articles on cyber security tips, our Business-Class Wi-Fi and more. Read the most recent issue of our Business Connections Magazine and let us know what you think.
As always, your feedback is welcomed!
Go Green! Go Paperless With Free E-billing
Would you like the convenience of receiving your monthly billing statement via email or having access to all of your statements online, while helping to save paper and the environment? E-bill saves you time and money - no more stamps to buy, checks to write or envelopes to mail and you're saving paper too! Your monthly payment may be made online through the Manage My Account section of our website or by calling our automated account management system at 1-866-863-8070, or by signing up to automatically have your bill paid via your credit card or deducted from your checking account.
For more information or to sign up for this free service, visit our secure registration at https://myaccount.wcvt.com and click on the signup link at the bottom, or contact our Customer Service Department at 496-3391 or via email at csdept@wcvt.com.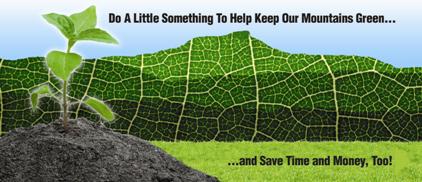 Win a $50 Gift Certificate to West Bolton Golf Club
Each month, we raffle off a prize from a local business, so be sure to enter your name every month for your chance to win. Congratulations to last month's winner, Diane Wing of Warren who won a gift certificate to The Store in Waitsfield. This month we have another great local prize, a $50 gift certificate to West Bolton Golf Club. To be entered into the raffle, simply click the link below and leave your name and contact information. The drawing will take place on June 22.
Click here to enter for your chance to win
---
WCVT In The Community
WCVT Employees Help With Special Olympics Vermont Summer Games Setup
A group of Waitsfield and Champlain Valley Telecom employees once again volunteered to assist with the setup for the Special Olympics Vermont 2018 Summer Games held at the University of Vermont. This has become an annual event for many employees who volunteer their time to help setup for this wonderful event. Great job Team WCVT!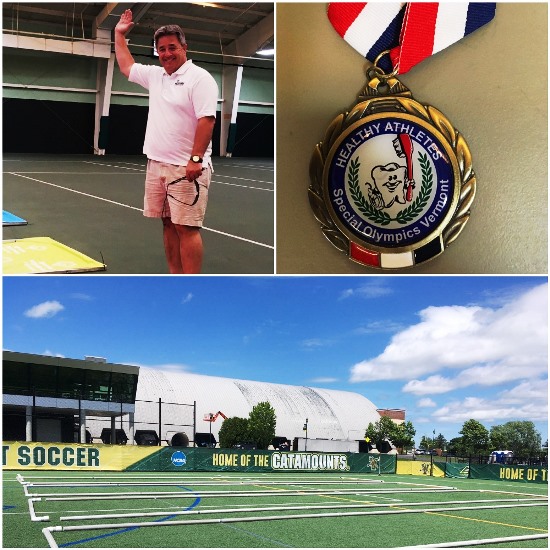 Waitsfield and Champlain Valley Telecom provides each employee with sixteen hours of community service time yearly to be used on local service projects. If your organization has a project in the making and is looking for help, contact Lorraine Keener at 496-8379 or lkeener@corp.wcvt.com to discuss the possibilities of WCVT participation.

---
Community Events
Waitsfield Farmers' Market | Saturdays | Mad River Green, Waitsfield
Every Saturday from mid-May to mid-October, you will find the fabulous Waitsfield Farmers' Market at the Mad River Green. The market runs from 9am to 1pm and offers 65+ vendors offering local artisans, ethnic prepared foods and farm products, such as local meats, vegetables, cut flowers, jams, baked goods, cheeses, maple and much more. Live bands, demos and more.
For more information, visit www.waitsfieldfarmersmarket.com.
Pocock Rocks Music Festival and Street Fair | June 16 | Bristol
In its 9th year, the Pocock Rocks Music Festival & Street Fair celebrates Bristol, Vermont as a great place to shop, dine, live, work, and visit. The event will feature live musical performances from six well-known and loved regional bands, and host over 30 vendors from microbrews, hard ciders, and spirits, to specialty foods, gifts, and crafts. There will also be activities for the kids, and Bristol's own incredible restaurants and shops. WCVT is proud to be a sponsor again this year.
For more information, visit discoverbristolvt.com.
Annual Chicken BBQ | June 20 | Bristol
Bristol's Annual Chicken BBQ will take place on Wednesday, June 20th on the green. BBQ is a fundraiser for the 4th of July celebration. Enjoy delicious chicken, baked beans, potato salad, a roll and homemade lemonade. As in years past, Ladies of the Eastern Star will be selling pies and other delicious homemade delights for dessert. The BBQ will start at 5:30 p.m. and end at 8:00 p.m. or until all of the food is gone. Immediately following the BBQ will be the band on the Bristol Green.
Race 4 Sundaes | June 30 | Huntington
Walk or run the 7th annual Race 4 Sundaes. Proceeds go to "Neighbor Helping Neighbor" which gives financial support to struggling individuals in the Huntington community and surrounding areas.  Recipients may include a senior citizen who can't pay their heating bill, a flood victim who needs help replacing household staples or a single mother who needs help with a grocery bill. There is a 1-mile walk/ run option as well as 5k and 10k races. WCVT is proud to be a sponsor of the Race 4 Sundaes. For more information or to register, visit http://huntingtonrace4sundaes.weebly.com/.
---
Tutorial / FAQ
Stay Alert - Watch Out For Amazon Email Scam
Given how many people order from Amazon, it's no surprise that scammers are using the company as a disguise to get into your inbox. These emails pose as messages from Amazon about orders you may have placed or canceled, but are actually bait to lure you into giving away personal information or allowing malware to be installed on your computer.
Here's how it works: You receive an email that looks like it's from Amazon. It mentions a phony order you've placed or canceled, and requests that you click on a link to verify payment or other types of information.
If you receive such a message, don't click!
These emails include numerous elements to make them look like they're really from Amazon including the Amazon logo, a shipping confirmation number, itemized invoice, and estimated delivery date. However, you can learn to spot these fakes since they will also often include:
~ Grammatical or spelling errors
~ Illegitimate "from" email address
~ Request for personal information
~ Request for credit card number
~ Request for Amazon login or password
Examine all emails you receive carefully, to ensure they don't contain these telltale signs, before clicking on any links.
If you've already clicked a link from a fake email:
1. Don't beat yourself up; these messages are convincing and even savvy internet users can be fooled.
2. Immediately go to your Amazon account from a bookmark (not a link!) and change your password.
3. Contact your credit card company to let them know to watch for fraudulent purchases; also, if needed, update your card information in your Amazon account.
4. Run anti-virus software on your system to eliminate any malware that may have been transmitted by the scammers.
You can also report the suspicious email to Amazon.
https://www.amazon.com/gp/help/customer/display.html?nodeId=201127830
Short Tutorial / FAQ - I Think My Identity Has Been Stolen, What Should I Do?
Question: I've always been careful about protecting my personal information, but I recently received a bill for a credit card I didn't open. Does that mean my identity has been stolen? If so, what do I do now?
Answer: Your identity may or may not have been stolen, but you should play it safe and assume it has. A great place to start the recovery process is https://www.identitytheft.gov/, which offers useful information for people who suspect they've had their identities stolen. You can click the Get Started button to be taken through a process that will give you a customized recovery plan, or click the browse recovery steps button to go right to a general checklist.
Either way you'll be getting useful information about what to do now, what to do next, and other possible steps. The site enables you to print the checklists, and includes resources (such as sample letters to companies where the scammer may have used your credit card) and links to other valuable sites. Good luck!
---
Sites of the Month
Summer Movie Guide
https://www.fandango.com/movie-photos/the-summer-movie-guide-2018-1337
From Avengers to Incredibles to Solo, this site offers everything you need to know about upcoming summer blockbusters. You'll find news and reviews, info about the stars, fun quizzes, guides to family and indie movies, and, of course, tickets. Stop by the Offers section for posters, downloads, rewards, and more.
4th Of July Party Central
https://www.goodhousekeeping.com/4th-of-july-ideas/
If you're entertaining on the 4th of July, be sure to stop by this site first. You'll find festive drink ideas, craft suggestions, dessert recipes, and much more. Check out the safety information, too, including Safety Mistakes to Avoid as well as Fun and Safe Pool Games for Kids.
Safe Pest Control
https://www.epa.gov/safepestcontrol/pest-control-resources-residents
Sometimes pest control is necessary, but be sure you're taking the proper precautions. For example, you should always read labels before using any pest control products. Visit this EPA site to learn more about the Dos and Don'ts of Pest Control, Resources for Residents, and Preventing Pests at Home.
Traveling With Pets
http://www.pettravel.com/
If the thought of missing Fido while you're traveling is too much to bear, take him along! Before you go, visit this site for airline pet policies, information about pet passports, a guide to pet-friendly hotels, and much more. Check out the Pet Travel Blog for additional tips.
---
More...
Two to View - A Couple Amazing Videos You Don't Want to Miss
Is There Anything Legos Can't Do? Born without a full right arm, David Aguilar decided to complete it by building a prosthetic created entirely from Legos.
Extra Special Hockey Game - After two attempts thwarted by her brothers, a little girl finally gets a coveted hockey puck from Washington Capitals player Brett Connolly.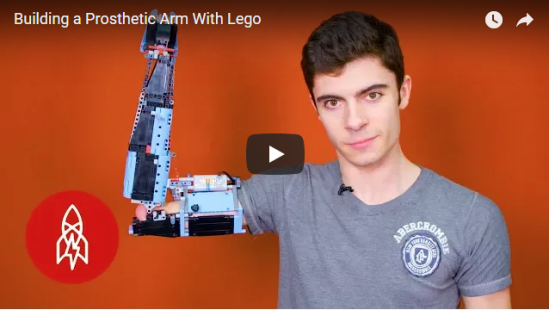 Go Pinterest-ing! - Cool Stuff to Pin on Your Pinterest Boards
Shrimp And Avocado Garlic Bread
https://www.pinterest.com/pin/291537775872996665/
Repel Bugs With Mason Jar Luminaries
https://www.pinterest.com/pin/291537775872996672/
Blueberry Peach Tart With Vanilla Glaze
https://www.pinterest.com/pin/291537775872996938/
You haven't started pinning on Pinterest yet and you want to get started? To sign up, go to www.pinterest.com.
Free Featured Apps - These Three are Well Worth the Look
Retrica
Celebrate Selfie Day on June 21 with this photo- and video-enhancing app.
Play with filters, stickers, doodles, and much more.
Learn More Here: http://retrica.co/
Pzizz
This highly regarded app can help you get the sleep you need, whether it's a few extra Zs during the day or a full night's rest.
Learn More Here: https://pzizz.com/
---