July E-Newsletter
We think you'll find the information contained in this newsletter to be a valuable tool for enhancing your Internet experience. As always, we appreciate your feedback and suggestions. Please send your thoughts, comments or questions to newsletter@gmavt.net.
The Green Mountain Access Team
~ Adam, Amanda, Eric, Jess, Kris, Phil, Richard, Seth and Scott
---
Company News
Win a $60 Gift Certificate To Cedar Knoll Country Club In Hinesburg
Each month, we raffle off a prize from a local business, so be sure to enter your name for your chance to win. For all of the golf fans out there, this month we are raffling off a $60 gift certificate to Cedar Knoll Country Club in Hinesburg. To be entered into the raffle, simply click the link below and leave your name and contact information. The drawing will take place on July 17th.
Click here to enter for your chance to win
WCVT Employees Celebrate Milestones
Happy Anniversary to this crew! Sixteen employees with a combined 315 years of service at Waitsfield and Champlain Valley Telecom (WCVT) were recently recognized for employment anniversaries ranging from five to forty years. Congratulations to everyone, and thank you for all your hard work and dedication to our customers over the years!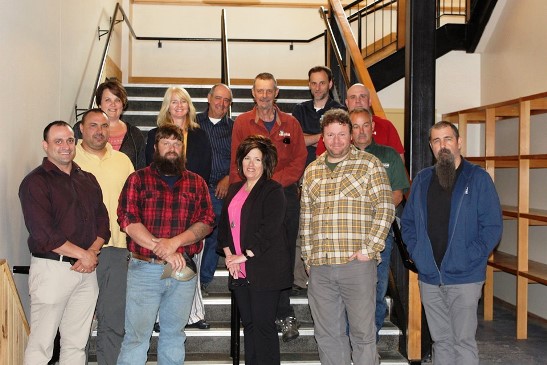 Steps Taken To Prevent International Long Distance Fraud
In order to help protect our Green Mountain Long Distance customers against International long distance fraud, we recently made the decision to place international call blocking on all of our customers lines who haven't made any international calls in the last 120 days.  The telecom industry has recently seen dramatic increases in international long distance fraud targeted against telephone subscribers and we have implemented this block to help protect our customers from this fraud.  If you would like to unblock your line to allow outbound international calls, please call Customer Service at 496-3391 and we would be happy to unblock your line.  Just be aware that it exposes you to potential fraud.  If you'd like us to block your line again in the future, simply give us a call back. 
Looking For A Better Wi-Fi Solution For Your Home Or Business? We've Got You Covered
At Green Mountain Access, we offer a full range of residential and business class Wi-Fi solutions from leading manufacturers including AirTies, Eero, Ubiquiti and Ruckus. Our Whole Home Wi-Fi uses multiple Access Points placed at strategic locations around your home to expand coverage, eliminating dead spots, and providing great performance for all of your streaming devices.

Want To Learn More?
For more information, visit https://www.wcvt.com/services/wi-fi to learn more about our Whole Home Wi-Fi or business Wi-Fi solutions, or give us a call at 800-496-3391.
Protecting Your Modem / Router During Lightning Season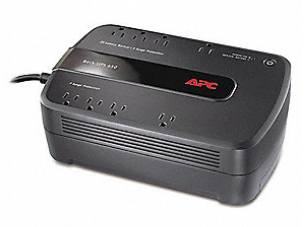 During the summer months we see a major increase in the number of router and Wi-Fi access point problems due to lightning. It is very important to protect your modem / router and other sensitive network equipment from the power fluctuations that can occur during these storms. We highly recommend that your modem / router be connected to (at minimum), a "computer grade" surge protector. Even better protection is provided by an Uninterruptible Power Supply (UPS). A UPS is essentially a battery that is placed between the wall outlet and your computer. It provides constant power to your computer and even allows it to run for a short time after a power outage, giving you time to save your work and properly shut down your computer. While a surge protector and UPS will help protect your computer during a lightning storm, keep in mind the best and cheapest protection is to simply unplug your electronic devices from both the electrical outlet and telephone jack during severe storms.
We also recommend staying away from less expensive surge protectors that are not specifically designed for use with sensitive electronics and computer equipment. Some surge protectors are single use units, and if the unit sustains a power surge (i.e. lighting, power spikes, etc.) it may not protect against future surges. In addition, a surge protector will not protect against the power dips that occur during these storms. Often times your computer equipment will not experience immediate failure, but the damage has been done and will appear further down the road.
---
WCVT In The Community
WCVT Helped Nature Conservancy With Trail Restoration In Monkton
Team WCVT volunteered with The Nature Conservancy in Vermont to repair a universally-accessible pathway at the Raven Ridge Natural Area in Monkton after it washed out in a few locations. Great job Team WCVT!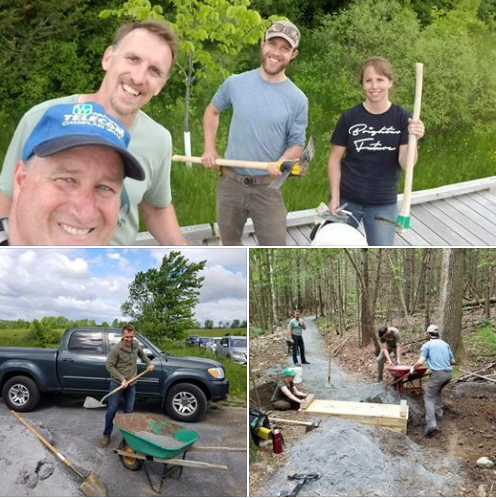 WCVT Announces Local High-School Scholarship Recipients
Waitsfield and Champlain Valley Telecom is pleased to announce the recipients of the 2019 Eunice B. Farr Incentive Award scholarships. "It is a pleasure to award these scholarships on an annual basis. We wish these motivated students the best of luck in their future endeavors," said Eric Haskin, President and CEO of Waitsfield and Champlain Valley Telecom. This year's recipients were as follows:
Champlain Valley Union High School – Amber Robert
Harwood Union High School – Savannah Thompson-Bell
Mount Abraham Union High School – Lindsey Armell
Mount Mansfield Union High School – Katelynne Leppert
Middlebury Union High School – Taylor Sylvester
Vergennes High School – Holden Clark
Each year, Waitsfield and Champlain Valley Telecom grants six scholarships, one to each of the public high schools that students from our service area attend. These scholarships are donated in memory of the late Eunice B. Farr, former owner and operator of the Waitsfield-Fayston Telephone Company and grandmother of Eric Haskin. The criteria of the scholarship is as follows, "The award should be presented to a graduating senior that plans subsequent education, be it college or trade school. The faculty should select an individual that has shown a steady improvement in his or her academics, but is not necessarily at the top of the class. The award is designed to benefit a hard working graduate that his or her instructors have found to demonstrate a sincere effort to improve grades/results and plans continuing education."
Being a local business means that our customers are also our neighbors and friends. At Waitsfield and Champlain Valley Telecom, we feel strongly that community involvement is not just a nice thing to do; it is the right thing to do. If you have a community service project in the making and are looking for help, contact Lorraine Keener at 496-8379 or via email lkeener@corp.wcvt.com to see if we can lend a hand.

---
Community Events
Bristol 4th Of July Celebration | July 3-4| Bristol
Bristol has carried on a 4th of July tradition for decades. Their celebration includes famous outhouse race, parade, fireworks and much, much more. Festivities begin on July 3. For more information and a complete schedule of events, visit www.bristol4th.com
July 3
- 6:00 pm Activities at the Rec Field: Food and craft vendors, games, and live music.
- Dusk: Fireworks
July 4
- 7:30am 5k Road Race
- 9:00am Great Bristol Outhouse Race
- 10:30am Parade
- 12:00 Live Music, food, and craft vendors on the green
Warren 4th Of July Parade | July 4| Warren
For the 71st consecutive year, the Mad River Valley celebrates our independence with a wild, wacky, and wickedly fun parade, street dance, and family festivities at the Warren 4th of July Parade and Festivities! Parade starts at 10 AM. Main Street in Warren closes at 8:30am sharp. For more information, visit https://www.madrivervalley.com/4th.
Summer Concerts In The Park | Wednesdays | Hinesburg
Every year the Hinesburg Recreation Department presents the Summer Concerts in the Park music series. Concerts are held Wednesday evenings at 6:30 p.m. throughout July and early August at the gazebo behind the Hinesburg Community School in Wainer Park. Waitsfield and Champlain Valley Telecom is proud to be a sponsor of the Hinesburg Concerts In The Park.
July 10 – Rodney Putnam
July 17 – About Time
July 31 – Loose Ends
Movies In The Park After Dark| Thursday Evenings On The Green| Bristol
The Bristol Recreation Department is once again showing classic films on a theatre sized screen on the Bristol Green – a drive-in experience without the driving! Free and suitable for all ages. Bring a blanket and your bug spray. Waitsfield and Champlain Valley Telecom is proud to be a sponsor of Movies In The Park.
July 11 – Jumanji
July 18 –Solo: A Star Wars Story
July 25 –Mary Poppins
August 1 – Inside Out
August 8 - Wizard of Oz
For more information, contact the Bristol Recreation Department at 453-5885 or bristolrec@madriver.com.
---
Tutorial / FAQ
Stay Alert - Scammers Are Trying To Sell You Fake Event Tickets
Trying to get tickets to that sold-out Rolling Stones concert? Great, there are lots of legitimate outlets available online. But, be careful! There are just as many scammers out there who will be only too glad to take your hard-earned money in exchange for fake tickets ... or no tickets. Events of all kinds -- including musical concerts, sporting events, and theatrical performances -- can be the focus of these types of scams, which are typically perpetrated through fake websites. Here are some tips for staying safe, based on suggestions from the Better Business
Bureau:
~ If possible, purchase your tickets directly from the venue where the event will be taking place. (Many of these outlets now offer secondary sales options.)
~ Your next best bet is a professional ticket broker that is a legitimate and accredited reseller.
~ For any source other than the venue, look them up on the Better Business Bureau website to learn what other customers have to say. You can also check to see if they're a member of the National Association of Ticket Brokers.
~ If all of the above checks out, look for the lock symbol in the web address to indicate a secure purchasing system.
~ Make sure you get the following information in advance: Refund policy and other transaction terms, seating location, and how and when the tickets will be available to ship or pick up.
~ Always use a credit card to pay. Debit cards, wire transfers, and cash transactions are risky because they don't provide a way to get your money back if the tickets are fraudulent.
~ Be especially wary of any seller who claims to have tickets at prices too good to be true.
~ If you've already purchased a ticket and are unsure whether it's legitimate, present it to the venue and ask them to verify it.
Short Tutorial / FAQ - I'm Afraid My Elderly Parents Have Been The Victims Of Scammers. How Can I Help Prevent It From Happening Again?
Question: The other day my mom hinted that she was the victim of a scam.
I think she was embarrassed, and I don't want to make her feel incompetent by offering to help. But I can't just sit back and do nothing. How do I protect her and my dad without offending them?
Answer: You're smart to think about your response before moving forward, and you're already aware of one of the potential pitfalls of this
situation: making your parents feel bad for being a victim.
Unfortunately, there are many creative scammers out there who have no problem victimizing people like your parents. They can include professionals (such as contractors) with ill intentions, "friends" with ulterior motives, or companies that charge sky-high rates. Fortunately, you have a number of ways to proceed:
~ Talk about the scam that already happened. It could be your parents just need some education about the way scammers operate, especially if the scam happened online. For example, were they told they won a contest?
Help them see the logic of not being able to win a contest they never entered.
~ Review common indicators of possible scams. These include letters or phone calls claiming the victim must "act now" to avoid some kind of catastrophe, calls from people trying to help them with problems that don't exist, or contacts from government agencies claiming to need personal information for some reason.
~ The elderly may feel lonely, and are therefore more willing to trust people who pay attention to them. Remind them that, even for adults, it's not smart to talk to strangers.
~ Ask your parents if they would be open to granting you online access to their financial accounts so you can help them monitor any shady activity.
Help them check their credit reports through AnnualCreditReport.com.
~ Put your parents' contact information on opt-out lists with the Direct Marketing Association.
~ Call or visit your parents regularly, let them know you're open to listening to their challenges without judgment, and look for any signs people are taking advantage of them.
---
Sites of the Month
Celebrate Amelia Earhart
https://www.history.com/topics/exploration/amelia-earhart
July 24 is Amelia Earhart Day, and you can celebrate by learning more about this record-setting aviator. She was the first woman to fly solo across the Atlantic Ocean. Her life ended mysteriously as she attempted to become the first pilot to fly all the way around the world.
Creative Ice Cream Recipes
https://www.cookingchanneltv.com/recipes/packages/best-summer-and-grilling-recipes/summer-dessert-recipes/photos/creative-ice-cream-recipes
July is Ice Cream Month, and a great time to explore interesting variations on everyone's favorite creamy dessert. This photo gallery features inventive flavors like Trail Mix, Curry and Mint, Pumpkin Stracciatella ("little rags" in Italian), Brown Butter Bacon, Honey-Rhubarb, and Asiago. Is your mouth watering? Don't worry, recipes are included.
Summer Photography Tips
https://digital-photography-school.com/5-hot-tips-improving-summer-photography/
The Digital Photography School offers five great tips for taking better shots this summer. For example, take photos of the same place at different times to capture variations in lighting. Or, photograph in bad weather to capture unique shots. Sign up for the newsletter to get more tips in your inbox.
Stay Hydrated & Healthy
https://www.heart.org/en/healthy-living/fitness/fitness-basics/staying-hydrated-staying-healthy
The importance of drinking enough water can't be overstated, and it's especially critical when you're playing sports or out in the sun. Read this American Heart Association article about why and how to stay hydrated, then explore other important health information on the site such as keeping cool during warm weather workouts.
---
More...
Two to View - A Couple Amazing Videos You Don't Want to Miss
Karaoke To Make You Smile - This America's Got Talent contestant puts a twist on karaoke that at first stuns the audience and then has everyone laughing.
Major Surprises In Baseball - These Major League Baseball players know how to keep it interesting. Surprise plays entertain fans and amaze other players.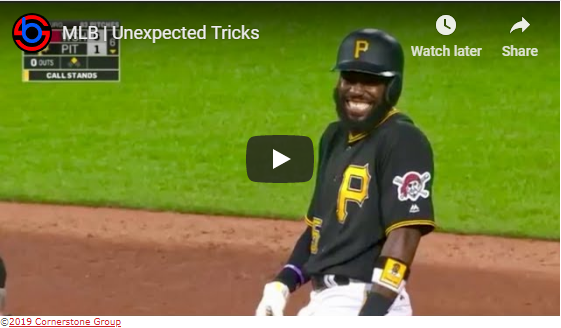 Go Pinterest-ing! - Cool Stuff to Pin on Your Pinterest Boards
DIY Bug Repellent Made With Mason Jars
https://www.pinterest.com/pin/291537775877487497/
Delicious Snacks To Curb Your Cravings
https://www.pinterest.com/pin/291537775878301732/
Pretty, Pink, Sparkling Rhubarb Lemonade
https://www.pinterest.com/pin/291537775878301750/
You haven't started pinning on Pinterest yet and you want to get started? To sign up, go to www.pinterest.com.
Free Featured Apps - These Three are Well Worth the Look
Keepy
This brilliant app is like a permanent refrigerator to hang your kids' art projects on. Just snap, crop, enhance, and share. Learn More Here: https://keepy.me/
Rakuten Slice
Easily find out where your online order is with this app. It automatically picks up tracking numbers in your email when you buy. Learn More Here: https://www.slice.com/
Rise
Using scientifically backed techniques, Rise gives you a personalized bedtime routine to help you get your best night's sleep. Learn More Here:https://getrise.app/
---