Win Tickets to the Addison County Field Days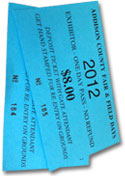 This month we are giving away five pairs of tickets to the Addison County Fair and Field Days which takes place from August 7 – 11. For more information, visit www.addisoncountyfielddays.com. Congratulations to last months' winners of tickets to the Stars and Stripes Airshow. The drawing for this month's raffle will take place on July 20th. To be entered into the raffle, simply click this link and leave your name and contact information.
---
Understanding the Rural Call Completion Issue

Are long-distance calls not getting through to you? Many people living in rural America are still experiencing intermittent problems receiving long-distance phone calls from across the country. You may have encountered any of the following:
Someone tells you he/she tried to call you but the call didn't get through, or the caller heard ringing but you didn't.
A call came through to you but the quality was poor.
A call came through but the Caller ID was incorrect.
Failed or degraded calls not only undermine the integrity of the nation's telephone networks and frustrate consumers, but they also pose a serious risk to public safety and harm the rural economy. For example, schools may not be able to reach parents with critical alerts, and small businesses may be losing customers.
The problem starts with the long-distance carrier used by the customer who makes the call, and can only be resolved by this carrier. Local telecommunications providers, such as Waitsfield and Champlain Valley Telecom, are not the cause of the problem. We strive to provide excellent service at all times, and are as frustrated as you are by the illegal practices of some long-distance carriers and their agents.
Action is currently being taken by the FCC and its Rural Call Completion Task Force. It includes staff from the agency's Wireline Competition, Public Safety and Homeland Security, and Enforcement Bureaus. Most recently, the Wireline Competition Bureau issued a Declaratory Ruling to clarify the FCC's stated prohibition on actions taken by companies which may restrict telephone traffic in any way.
This ruling reminds long-distance carriers that it is illegal to block, choke or reduce long distance traffic and that this prohibition also includes any practices that lead to call termination or call quality problems as well. These practices would violate the Communications Act of 1934 because it is seen as unreasonable discrimination of those of us who reside in rural areas of the United States. To read the entire document, visit:
www.fcc.gov/document/wcb-issues-declaratory-ruling-rural-call-completion-issues
There are things you can do to help:
Ask for the name of the long-distance carrier used by the person trying to reach you.
Contact our Customer Service Department at 800-496-3391 and provide us the name of the carrier used by the caller, your phone number and the number of the person trying to call you, and the date and time of the problem call. We'll contact the carrier on your behalf to try and resolve the issue.
Go to www.fcc.gov/complaints to file an informal wired telephone service complaint with the FCC against the carrier used by the person trying to call you (not Waitsfield and Champlain Valley Telecom), and encourage the caller to do the same.
We'll continue to monitor this situation and keep you updated. As always, please contact us if you have concerns, and we'll assist you in any way we can.
---
WCVT in the Community

Being a local business means that our customers are also our neighbors and friends. Waitsfield and Champlain Valley Telecom feels strongly that community involvement is not just a nice thing to do; it is the right thing to do. Here are some highlights of recent and upcoming activities:
WCVT Announces 2012 Scholarship Winners
Waitsfield and Champlain Valley Telecom is pleased to announce the recipients of the 2012 Eunice B. Farr Incentive Award scholarships. The scholarships are donated in memory of the late Eunice B. Farr, former owner and operator of the Waitsfield-Fayston Telephone Company and the grandmother of Gregg Haskin, current President /CEO of the telephone company. The award is designed to benefit a hard working graduate that his or her instructors have found to demonstrate a sincere effort to improve grades and plans on continuing their education. A total of six scholarships were granted, one to each of the public high schools attended by students from our service area. This year's recipients were as follows:
Champlain Valley Union High School – Elliot Schneider, Williston
Harwood Union High School – Nicole Day, Waterbury
Mount Abraham Union High School – Miles Calzini, Bristol
Mount Mansfield Union High School – Richard Weston, Huntington
Middlebury Union High School – Shaunice Hutchinson, Bridport
Vergennes High School – Katelyn C. Stone, Vergennes
Congratulations to all of the recipients!
Everybody Wins! Vermont! Receives Grant from Waitsfield and Champlain Valley Telecom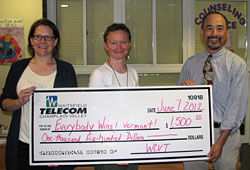 Everybody Wins! Vermont! (EW! VT!) has been awarded a $1,500 matching grant from Waitsfield and Champlain Valley Telecom and the Foundation for Rural Education and Development (FRED). Everybody Wins! Vermont! is a nonprofit children's literacy and mentoring organization, with a thriving program at the Waitsfield Elementary School. EW! VT! is dedicated to increasing children's prospects for success in school and beyond through one-to-one reading experiences with caring adults. More than 650 EW! VT! mentors read with elementary school students at 22 schools. The relationships that are developed and the joy the student's exhibit in meeting with their mentors is stupendous.
FRED provides funds to educational and community development projects located in areas served by local telephone companies that are members of the Organization for the Promotion and Advancement of Small Telecommunications Companies (OPASTCO). Waitsfield and Champlain Valley Telecom (WCVT), which is an active member of OPASTCO, submitted the grant application on behalf of Everybody Wins! Vermont! and matched the funds donated by FRED.
Employees Volunteer for Special Olympics
A group of Waitsfield and Champlain Valley Telecom employees volunteered to help setup for the Special Olympics Vermont 2012 Summer Games held at the University of Vermont. This has become an annual event for the WCVT employee crew who volunteer to help setup for the event. Great job Team WCVT!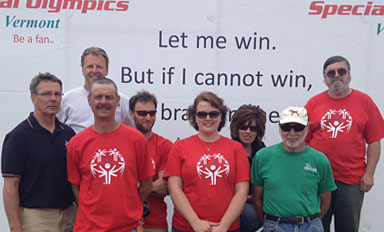 If you have a community service project in the making and are looking for help please don't hesitate to contact Alan Jones, at 496-8328 or via e-mail ajones@wcvt.com to see if we can lend a hand.
---
And The Winner Of One Free Month Of High-Speed Internet Service Is...

Congratulations Dave Olenick for being this month's winner of one free month of high-speed Internet service. Dave's name was chosen at random from customers who completed our monthly Green Mountain Access technical support surveys.
Each month, one name is selected at random from customers who completed our online technical support or new user surveys. Survey requests are sent out via e-mail to customers after calling technical support, or establishing new service. So be sure to fill out those surveys!
---
Welcome New Businesses

It's now more important than ever to support our local businesses. When you buy local, everyone benefits. Please support the community by doing business with these new neighbors.
425-6106 Elderflower Farm - Charlotte
434-4022 Wetherby Design LLC - Richmond
453-3433 Clegg's Memorials – New Haven
453-6144 DC Fabricators, Inc. – New Haven
453-7705 Green Pasture Meats, Inc. – New Haven
482-4666 Vermont Smoke and Cure - Hinesburg
482-6455 Green Mountain Organic Creamery LLC - Hinesburg
482-7802 A To Z Embroidery – Hinesburg -
496-4333 The Green Closet - Waitsfield
496-9199 The Sweet Spot - Waitsfield
759-6853 Sky Beach Club - Addison
---
Two to View — A Couple Of Amazing Videos You Don't Want To Miss

A First for Paralyzed Marathoner
click here for video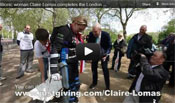 Claire Lomas, paralyzed from the chest down, completed the London Marathon in 16 days using a ReWalk exoskeleton suit. She became the first person to finish a marathon using the bionic walking assistance system. You'll be inspired with every step.
Astounding Footage of Eagle Owl
click here for video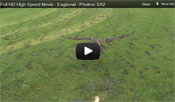 This high-speed movie in full HD captures the flight of an eagle owl in breathtaking detail. You'll feel like you're actually there as the majestic bird swoops in to grab a chicken leg. Who can blame it? Moving those wings must work up an appetite.