December E-Newsletter
We think you'll find the information contained in this newsletter to be a valuable tool for enhancing your Internet experience. As always, we appreciate your feedback and suggestions. Please send your thoughts, comments or questions to newsletter@gmavt.net.
The Green Mountain Access Team
Adam, Amanda, Eric, Jason, Kris, Phil, Richard, Seth and Scott
---
Company News
Thank You For Buying Local This Holiday Season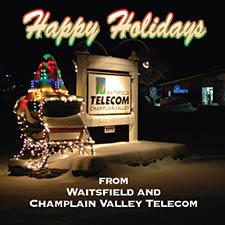 We are very fortunate to have a wonderful diversity of local businesses that include talented artisans, unique shops, specialty boutiques, retailers, and wonderful restaurants in our local communities. These businesses are owned and operated by your friends and neighbors and help make Vermont the special place we all hold dear to our hearts. Instead of driving to the big box stores or shopping online with an out-of-state merchant, please support the local economy by shopping locally.
All of us at Waitsfield and Champlain Valley Telecom wish you a happy and healthy holiday season and would like to thank you for choosing us as your provider and we look forward to continuing to serve you. Please don't hesitate to contact us at 800-496-3391 or support@gmavt.net if you have any questions.
Win a $50 Gift Certificate To Bolton Valley Resort

Each month, we raffle off a prize from a local business, so be sure to enter your name every month for your chance to win. This month we are raffling off a $50 gift certificate to Bolton Valley Resort. To be entered into the raffle, simply click the link below and leave your name and contact information. The drawing will take place on December 18th.
Click here to enter for your chance to win
More Connected Devices = A Need For Better Wi-Fi?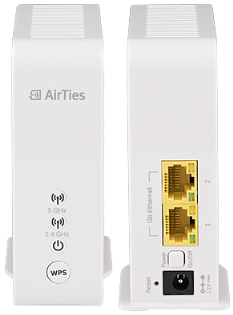 Are you adding more devices to your Wi-Fi network? It may be time to look at a new solution to increase your Wi-Fi coverage and performance. Our Whole Home Wi-Fi uses multiple Access Points placed at strategic locations around your home to create an intelligent Mesh network that ensures consistent performance of high quality, whole-home Wi-Fi coverage on all devices.
Each access point connects to each other to provide seamless Wi-Fi coverage. This means that no matter where you are in your home, you'll have access to fast and reliable internet service – and no more dead spots!
Whole Home Wi-Fi from Green Mountain Access is just $10.90* per month, plus installation, and includes two AirTies 4920 ac Wi-Fi access points. Additional Wi-Fi access points can be added for $5.45* per month for each additional access point if needed for your specific installation.
Have a question, or want additional information, visit http://www.wcvt.com/services/wi-fi/residential/ or contact Richard at 496-8360 to learn more about our Whole Home Wi-Fi or business Wi-Fi solutions.
*Whole Home Wi-Fi equipment requires Green Mountain Access high-speed Internet service and a DSL modem/router. Installation fees apply.
WCVT Employees Donate Over $7,500 For Hurricane Relief
Waitsfield and Champlain Valley Telecom (WCVT) employees donated more than $7,500 to the American Red Cross to help with hurricane relief efforts.  Employees raised funds through a company-wide raffle, individual donations and through the company's Contributions Committee.
Our thoughts continue to be with the many people whose lives were so severely impacted by hurricanes in Texas, Florida and Puerto Rico," said Gregg Haskin, President and CEO of Waitsfield and Champlain Valley Telecom.  "We are extremely proud of our employees' generosity and willingness to help those in need."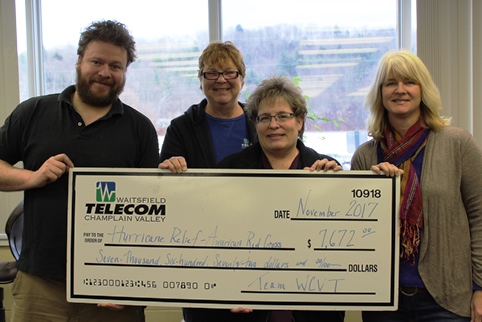 WCVT Holiday Giving Tree Helps Hundreds Of Local Children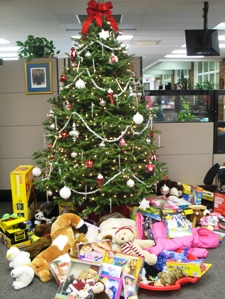 Each year Waitsfield and Champlain Valley Telecom spreads holiday cheer through our giving tree. WCVT employee Tammy Field coordinates our annual gift drive and works directly with local schools and community organizations in our service area to help fulfill the needs of approximately 500 children each holiday season. Hundreds of gifts for all ages are donated by employees, customers and the Company's Contributions Committee. Our thanks to Tammy and everyone who is participating this year.
Being a local business means that our customers are also our neighbors and friends. At Waitsfield and Champlain Valley Telecom, we feel strongly that community involvement is not just a nice thing to do; it is the right thing to do. If you have a community service project in the making and are looking for help, contact Lorraine Keener at 496-8379 or via email lkeener@corp.wcvt.com to see if we can lend a hand.
---
Community Events
Candy Cane Hunt – Friday, December 1 - Bristol Town Green
Santa has hidden candy canes all around the park. Bring your flashlight and help us find them! You may even find a special candy cane with a prize winning ribbon! Friday, December 1st, at 6:00pm. For more information, visit http://www.bristolrec.org.
WSBA Richmond Holiday Market - Saturday, December 2 - Richmond
The Western Slopes Business Association and the Town of Richmond will be hosting the 14th annual Richmond Holiday Market on Saturday, December 2, from 9:00 a.m. – 3:00 p.m. This annual event has grown over the years and is offered in several locations, including the Richmond Free Library; the Richmond Congregational Church, the Richmond Town Hall, and at Our Lady of the Holy Rosary Catholic Church and the Richmond Town Center. There's something for everyone. For more information, visit http://www.westernslopesvt.org/events/wsba-richmond-holiday-market-december-2-2017/
Round Church Carol Sing - Sunday, December 3 - Richmond
On Sunday, December 3, the Richmond Historical Society will host two community caroling sessions at the Round Church at 4 pm and 5 pm. This event is free and open to the public. For more information, contact Martha Turner at rhs@oldroundchurch.com or 434-6453.
Country Christmas - Saturday and Sunday, December 8 & 9 - Mad River Valley
Come visit the Mad River Valley during the Holiday Season. The 19th Annual Country Christmas is a holiday event that turns the Mad River Valley into a winter wonderland. Events will be going on Friday and Saturday with many stores staying open late. Country Christmas has been voted one of the "Top Ten Winter Events". Music, Art, Food, Children's events and more. For more information and event details, visit http://www.madrivervalley.com/event/country-christmas.
Songs Of The Season- Saturday, December 16 - Bristol
Celebrate the music of the season with your friends and neighbors in the tradition started long ago. The holiday concert begins at 7 pm and takes place at Holley Hall in Bristol. For more information, visit www.bristolrec.org.
---
Tutorial / FAQ
Stay Alert - Watch Out For Charity Scams
Scammers will take advantage of any opportunity to steal from you. Around this time of year, it's your charitable spirit they're trying to profit from. Because you may only donate to a charity once a year, and you may not be familiar with their website or communication methods, it's easy for scammers to find ways to trick you. Follow these tips to avoid being
fooled:
Beware of any entity that doesn't provide detailed information about itself and its mission.
~ Avoid entities that use high-pressure tactics to try and get you to donate immediately.
~ Watch out for entities that ask for donations in cash, ask you to wire money, or offer to send a courier service to collect the donation.
~ Keep in mind basic email hygiene: Don't click or download links or attachments from unknown sources, and don't reply to questionable email messages.
~ Do your homework on charities before making any donations.
~~ Ask for detailed information about the charity and how your donation will be used.
~~ Check with a reputable organization, such as Charity Navigator, to gather additional information about how the group operates.
https://www.charitynavigator.org/
~~ Search for the name of the organization together with the word "complaints" to see if anything comes up.
This holiday season, don't let scammers hijack your good intentions!
Short Tutorial / FAQ - How Do I Use Hashtags On Facebook?
Question: I like using hashtags on Twitter. Can I use them on Facebook too? If so, how does it work?
Answer: Yes, you can use hashtags on Facebook, and the process is very similar to the way it's done on Twitter. Hashtags are useful for helping other users understand the context of your post, and for adding your voice to an ongoing virtual conversation about a particular topic.
All you need to do is write your hashtag within a post. That's it! For example, your post could read, "Watching the big game! #GoHawks." As with regular posts, your hashtagged post will only be visible to people you've allowed to see it.
If you'd like to see what other people are saying about your hashtag topic, search for the hashtag (including the hashmark) using the Facebook search bar.
---
Sites of the Month
Best Holiday Cookie Recipes
http://www.foodnetwork.com/holidays-and-parties/photos/top-holiday-cookies
Leave it to Food Network to spoil cookie lovers with 109 great recipes for the holiday season. Find all your favorites -- like Gingerbread, Shortbread, Butter, Sugar, and Spoon -- along with some unusual picks like Crunchy Peanut Butter S'more Bites, Cinnamon-Spiced Hot Chocolate, or Turtle Graham Bars. Yum!
Creative Gift-Wrapping Ideas
http://www.countryliving.com/diy-crafts/how-to/g1053/gift-wrapping-ideas/?
After picking out the perfect gifts for your loved ones this season, don't forget to dress them up with fun wrapping. This site offers many whimsical ideas to reflect anyone's tastes -- including artistic, musical, maps, ornaments, bright colors, crosswords, chalkboard, or simple but elegant brown paper.
Improve Your Finances
https://www.doughroller.net/
If holiday spending has put an unpleasant dent in your finances, visit this site to iron it out. Read articles on a variety of money topics; learn about the best credit cards and checking and savings accounts; and visit the Tools section for help with investing, budgeting, debt, and more.
---
More...
Two to View - A Couple Amazing Videos You Don't Want to Miss
Baby's First Glasses - For this giggly baby, the gift of better sight isn't just necessary, it's a whole lot of fun.
Beyond Awesome Holiday Lights - Your holiday lights might be impressive, but are they set to music? Watch and be wowed.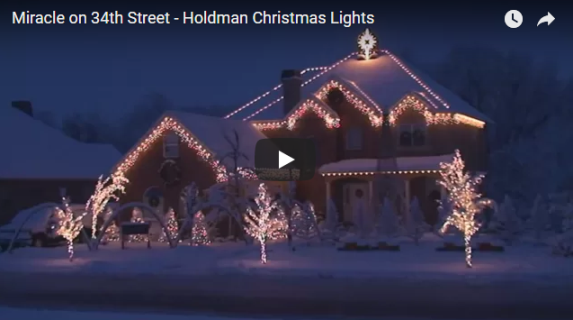 Go Pinterest-ing! - Cool Stuff to Pin on Your Pinterest Boards
DIY Christmas Tree Ornament Ideas
https://www.pinterest.com/pin/291537775870514380/
Cute And Crafty DIY Holiday Cards
https://www.pinterest.com/pin/291537775870514545/
Sweet Latte-Inspired Gingerbread Cupcakes
https://www.pinterest.com/pin/291537775870513511/
You haven't started pinning on Pinterest yet and you want to get started? To sign up, go to www.pinterest.com.
Free Featured Apps - These Three are Well Worth the Look
Elf Yourself - Download this holiday app to turn yourself and friends into elves, then share the fun dancing elf videos on social media.
Daily Quote - Everyone can use a bit of inspiration now and then - even better, every day! Use this app to get your daily dose of positivity.
Allrecipes Dinner Spinner - Getting dinner on the table has never been easier. Try this app for recipes on the go, complete with photos, videos, ratings, and reviews.
---