August E-Newsletter
We think you'll find the information contained in this newsletter to be a valuable tool for enhancing your Internet experience. As always, we appreciate your feedback and suggestions. Please send your thoughts, comments or questions to newsletter@gmavt.net.
The Green Mountain Access Team
Adam, Amanda, Eric, Kris, Phil, Richard, Seth and Scott
---
Company News
Win Tickets To The Addison County Fair And Field Days
Each month, we raffle off a prize from a local business, so be sure to enter your name every month for your chance to win. Congratulations to Jennifer Morton of Hinesburg, last month's winners of $50 gift certificate to Canteen Creemee Company in Waitsfield.
This month we have another great prize for you, so be sure to enter for your chance to win a pair of tickets to the Addison County Fair and Field Days. Five pairs of tickets to the event are available. The drawing will take place on August 4.
Click here to enter for your chance to win.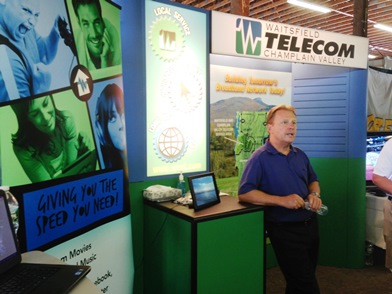 Get Faster Internet And Make The Whole House Happy - Try Our Faster Speeds Free for 60-Days
How many family members are typically online at your house and what are they doing? Streaming movies and TV shows? Downloading music? Playing games? Connecting on Facebook, Pinterest, and Twitter? Times have changed and many households now need more Internet speed to handle more users and more devices.
If your speed is no longer adequate, you may be experiencing annoying slowdowns such as video buffering. Fortunately, you can get a lot more Mbps for a just a little more money!
To find out if higher speeds are available at your location, click here. Give us a call at 888-321-0815 or email us to learn more.

Improve Your Wi-Fi Experience
Wi-Fi is a critical part of your home network that you rely on each and every day. Often we don't think about the number of devices that we are connecting to our network using a wireless connection. Historically, we relied on wired connections to do the heavy lifting, but in today's wireless environment, we need a reliable, secure Wi-Fi network to provide coverage throughout your home.
Why It's Different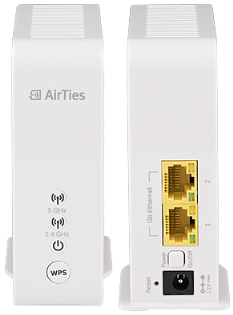 Unlike traditional Wi-Fi, which relies on a single access point (AP) to provide coverage, Whole Home Wi-Fi from Green Mountain Access utilizes multiple Access Points placed at strategic locations around your home to create an intelligent Mesh network that ensures consistent performance of high quality, whole-home Wi-Fi coverage.
Expand Coverage and Eliminate Dead Spots
Each access point connects to the other to act as a distributed, autonomous wireless network. This means that no matter where you are in your home, you'll have access to fast and reliable internet service – no more dead spots!
Pricing
Whole Home Wi-Fi from Green Mountain Access is just $10.90* per month and includes two AirTies 4920 ac Wi-Fi access points. Additional Wi-Fi access points can be added for $5.45* per month for each additional access point if needed for your specific installation.
For more information, visit http://www.wcvt.com/services/wi-fi/residential/ or contact Richard at 496-8360 to order Whole Home Wi-Fi for your home or small business.
*Whole Home Wi-Fi equipment requires Green Mountain Access high-speed Internet service and a DSL modem/router.
---
Community Events
Addison County Fair And Field Days | August 8 - 12 | New Haven
Don't miss Vermont's largest agricultural fair in New Haven. Children's barnyard, cattle judging, tractor pulls, rides, crafts, exhibits, live entertainment, pony and ox pulling, midway, parade, youth activities, and Vermont products dinner. For more information, visit www.addisoncountyfielddays.com or visit them on Facebook at www.facebook.com/addisonfielddaysvt.
Summer Concerts In The Park | Wednesdays | Hinesburg
Every year the Hinesburg Recreation Department presents the Summer Concerts in the Park music series. Concerts are held Wednesday evenings at 6:30 p.m. throughout July and early August at the gazebo behind the Hinesburg Community School in Wainer Park. Waitsfield and Champlain Valley Telecom is proud to be a sponsor of the Hinesburg Concerts In The Park.
Movies In The Park | Fridays| Bristol
The Bristol Recreation Department is once again showing classic films on a theatre sized screen on the Bristol Green – a drive-in experience without the driving! Free and suitable for all ages. Bring a blanket and your bug spray. Waitsfield and Champlain Valley Telecom is proud to be a sponsor of Movies In The Park.
August 4 – Fantastic Beasts
August 18 - Wizard of Oz
For more information, contact the Bristol Recreation Department at 453-5885 or bristolrec@madriver.com.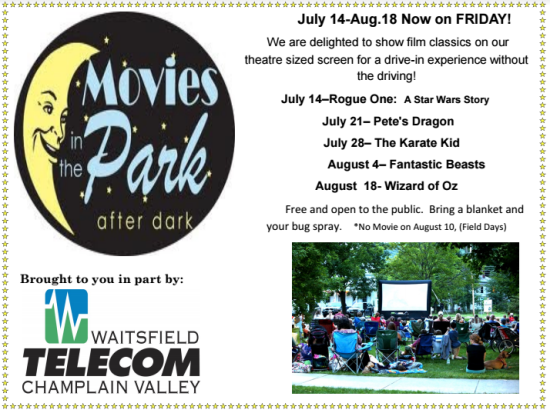 ---
Tutorial / FAQ
Stay Alert - Ignore Facebook Hacker Warnings
If you're like many Facebook users, you've recently received a warning from at least one friend against accepting a friend request from Jayden K. Smith. You were told this person is a hacker and could compromise not only your account, but all your Facebook friends' accounts as well. The message is usually similar to the following:
Please tell all the contacts in your Messenger list not to accept a Jayden K. Smith friendship request. He is a hacker and has the system connected to your Facebook account. If one of your contacts accepts it, you will also be hacked, so make sure that all your friends know it.
While your friends who forwarded this message probably meant well, the warning isn't entirely accurate and is, in fact, considered by experts to be a hoax. According to Facebook, scammers that become friends can spam your Timeline, tag you in posts, and send you malicious messages. They could also use your personal information to steal your identity. For all these reasons, you shouldn't accept friend requests from people you don't know.
However, a scammer that becomes your Facebook friend cannot hack your account or your computer, control them in any way, or hack your friends'
accounts. So, you can spend your time on Facebook connecting with your real friends, and stop worrying about Jayden K. Smith.
Short Tutorial / FAQ - Is Personal Data Really Gone After It's Deleted From a Device?
Question: I just bought a new laptop. My old one is in good condition and I want to try and sell it online, but I'm worried about my personal data.
If I delete my files, are they truly gone?
Answer: No, they're not. Deleting a file on your device simply means it's been moved to an area where you can no longer access it. The reason this is the default action on your computer is that it takes much less time to delete a file than to permanently remove it. So you get a higher level of usability and a greater chance of retrieving files that you delete accidentally. The downside is that your information could be accessed with specialized software.
To permanently remove your files, you'll need to use a different process, which varies depending on what type of device and operating system (OS) you're using. For a Windows PC, you can run a program like Secure Eraser
(https://www.ascomp.de/en/products/show/product/secureeraser/tab/details)
or CCleaner (https://www.piriform.com/ccleaner) to permanently remove your files. They work by overwriting information in such a way that it can never be retrieved, even with specialized software.
If your laptop is a Mac, read about the steps you need to take to permanently remove your data. Don't forget Step #2, which is to deauthorize your computer from using iTunes (https://support.apple.com/en-us/HT201065); this will prevent another possible negative outcome, which is others being able to make purchases from your iTunes account.
The process is similar if you want to wipe all data from a smartphone or tablet; search online for information about your particular manufacturer or OS.
---
Sites of the Month
Summer Food Safety
https://www.fda.gov/food/resourcesforyou/consumers/ucm109899.htm
We love summer picnics and barbeques, which is why August is National Picnic Month. But before you fire up the grill or open that picnic basket, check out this page for food handling tips. Find out how to pack, transport, prepare, and serve food safely to avoid foodborne illness.
All About Classic Cars
https://www.hemmings.com/
Love classic automobiles? If so, you'll want to check out this site to buy your dream car or find parts for one you already have. You can also explore stories from car aficionados, check out the calendar for car-related events, or review the publications list for additional information sources.
Free Online Learning
https://www.khanacademy.org/
This site is a great educational resource for students who want additional instruction on challenging subjects. It offers lessons and testing in math, science, engineering, humanities, computing, economics, and more, including SAT and college admissions prep for older students.
News That Inspires
http://www.dailygood.org/
The Daily Good website promotes positive and uplifting news from around the world in sections like Generosity, Everyday Heroes, Nature, Work, and Science & Tech. Find uplifting messages in the Quotes section. Subscribe to the newsletter for a daily, weekly, or monthly dose of good news in your inbox.
---
More...
Two to View - A Couple Amazing Videos You Don't Want to Miss
Spectacular Sunset - Posted by a storm chaser, this video is a magnificent display of color and clouds during a North Dakota sunset.
Horse Blowing Bubbles - Like a little kid with a straw in a drink, this playful horse uses a water break to have some extra fun.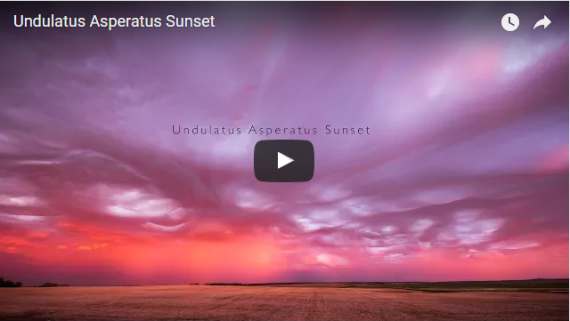 Go Pinterest-ing! - Cool Stuff to Pin on Your Pinterest Boards
Easy Slow Cooker Mexican Brisket
https://www.pinterest.com/pin/291537775868869455/
Back-To-School Lunchbox Ideas
https://www.pinterest.com/pin/291537775868968629/
Pretty & Refreshing Watermelon Drink
https://www.pinterest.com/pin/291537775868968674/
You haven't started pinning on Pinterest yet and you want to get started? To sign up, go to www.pinterest.com.
Free Featured Apps - These Three are Well Worth the Look
Socratic - If there's a student in your family, get this app. It's like a tutor that gives hints about math, science, and humanities homework.
Vivino - Want to keep track of wines you've tried? See what others think? Find new favorites? Get great deals? Do it all with Vivino.
Money Box - Saving money can be a tough challenge. Money Box makes it easier to reach your goals with reminders and deposit tracking.
---