April E-Newsletter
We think you'll find the information contained in this newsletter to be a valuable tool for enhancing your Internet experience. As always, we appreciate your feedback and suggestions. Please send your thoughts, comments or questions to newsletter@gmavt.net.
The Green Mountain Access Team
Adam, Amanda, Eric, Jason, Kris, Phil, Richard, Seth and Scott
---
Company News
Win a $50 Gift Certificate to Greenhaven Gardens and Nursery
Each month, we raffle off a prize from a local business, so be sure to enter your name every month for your chance to win. Congratulations to last month's winner, George Lam of Huntington who won a $50 gift certificate to the Hinesburgh Public House. This month we have another great local prize, a $50 gift certificate to Greenhaven Gardens and Nursery in New Haven. To be entered into the raffle, simply click the link below and leave your name and contact information. The drawing will take place on April 20.
Click here to enter for your chance to win

Get Faster Internet and Make the Whole House Happy - Try Our Faster Speeds Free for 60-Days
How many family members are typically online at your house and what are they doing? Streaming movies and TV shows? Downloading music? Playing games? Connecting on Facebook, Pinterest, and Twitter? Times have changed and many households now need more Internet speed to handle more users and more devices.
If your speed is no longer adequate, you may be experiencing annoying slowdowns such as video buffering. Fortunately, you can get a lot more Mbps for a just a little more money!
To find out if higher speeds are available at your location, click here. Give us a call at (888)-321-0815 or e-mail us to learn more.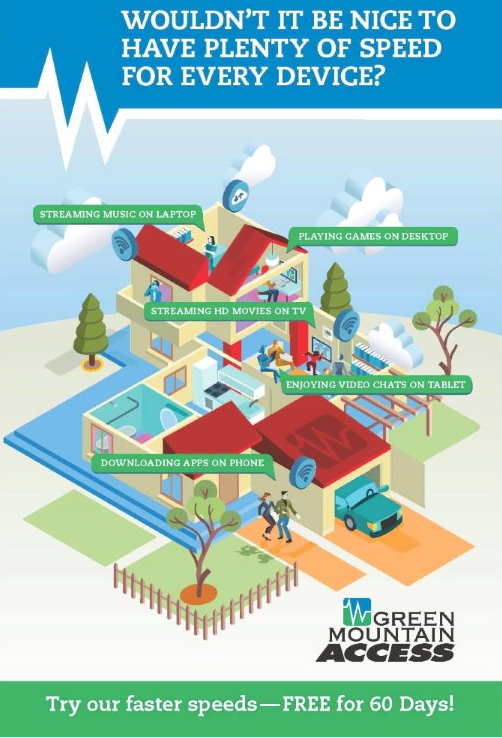 Looking For Better Wi-Fi?
Whole Home Wi-Fi from Green Mountain Access is designed to provide a reliable, secure, Wi-Fi network throughout your home.

Why It's Different
Unlike traditional Wi-Fi, which relies on a single access point (AP) to provide coverage, Whole Home Wi-Fi from Green Mountain Access utilizes multiple Access Points placed at strategic locations around your home to create an intelligent Mesh network that ensures consistent performance of high quality, whole-home Wi-Fi coverage. Each Wi-Fi access point connects to each other to act as a distributed, autonomous wireless network with a single SSID, traffic load balancing, and client and band steering. Steering technology ensures that all clients are pushed to the best access point and frequency band available at all times, countering the interference issues with 2.4 GHz.

Expand Coverage and Eliminate Dead Spots
Establishes a coordinated multi-AP Wi-Fi Network, extending Wi-Fi coverage throughout your home. Improved coverage and performance maximizes device connection speeds and overall and overall home Wi-Fi capacity by steering clients to different access points and Wi-Fi bands/channels.
Pricing
Whole Home Wi-Fi from Green Mountain Access is just $10.90* per month and includes two AirTies 4920 ac Wi-Fi access points. Additional Wi-Fi access points can be added for $5.45* per month for each additional access point if needed for your specific installation.
We also offer a full range of residential and business class Wi-Fi solutions from leading manufacturers including AirTies, Ubiquity and Ruckus. Want to learn more? Contact Richard at 496-8360
*Whole Home Wi-Fi equipment requires Green Mountain Access high-speed Internet service and a modem/router. One-time $100 installation fee applies.

---
WCVT In The Community
Another Great Mad River Valley Egg Hunt
Thank you to everyone who attended the Mad River Valley Community Easter Egg Hunt. This year's Community Easter Egg Hunt was bigger than ever with more than 300 children participating. The Easter Bunny even made an appearance. We are already working on plans for next year!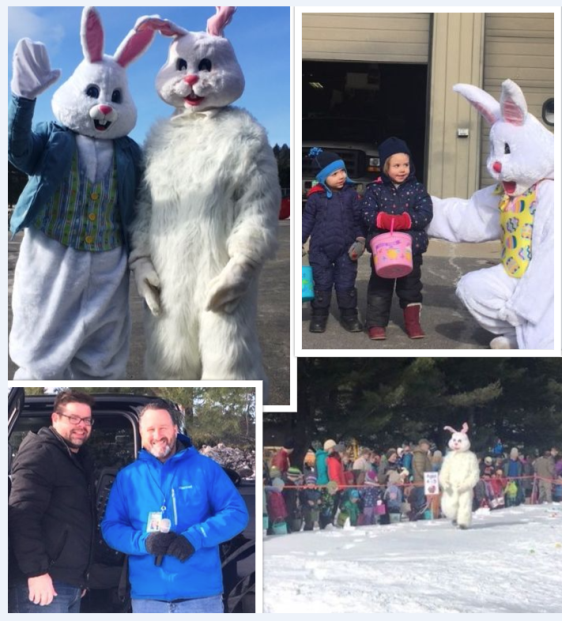 Thirty-Seven Pints Were Collected At WCVT Blood Drive
Another successful blood drive was held at the Waitsfield and Champlain Valley Telecom office in Waitsfield on March 27th with a total of 37 pints collected. A special thanks to event organizer Eric Haskin from WCVT and to everyone who volunteered to assist with the event as well as those who came out and donated and helped make this bi-annual blood drive a success.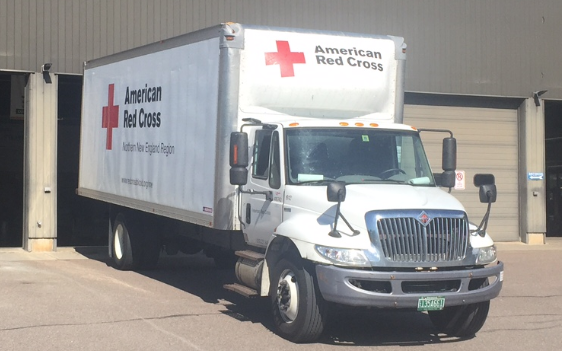 Waitsfield and Champlain Valley Telecom provides each employee with sixteen hours of community service time yearly to be used on local service projects. If your organization has a project in the making and is looking for help, contact Lorraine Keener at 496-8379 or lkeener@corp.wcvt.com to discuss the possibilities of WCVT participation.

---
Community Events
Hinesburg Friends Of Families Children's Clothing And Book Swap – Saturday, April 7
Come explore the Hinesburg Friends of Families bi-annual children's clothing and book swap. The event takes place in the main room of the Hinesburg Town Hall from 9 - 10:30am. Drop off items to donate on Friday, April 6th from noon to 8:00pm. For more information, email, koncewicz@hinesburgresource.org.
Sugar On Snow - Palmer's Sugarhouse - Saturdays and Sundays Through, April 15th
Visit Palmer's Sugarhouse for sugar on snow every Saturday and Sunday from 12 to 4:00pm through April, 15th. For more information, visit http://www.palmersugarhouse.com/.
Pirate Day At Mad River Green Shops - Sunday, April 29th
Ahoy Mateys it is time for some treasure hunt fun. Get your mapz and pirate loot on April 29th from 10 a.m.-12:30 p.m. Yo ho my lovelies to find the surprise at the Mad River Green Shops in Waitsfield. Start the day off with waffles at Three Mountain Café and continue the search for treasure (ages 3-12). For more information, visit https://www.facebook.com/threemountaincafe/.
---
Tutorial / FAQ
Stay Alert - Scammers Send Fake Invoices To Lure You In
Scammers send emails that look like they're trying to help you because they know you're more likely to click a link within them if you think you're protecting yourself. But, beware! In particular, watch for emails that look like they're coming from large tech companies you likely do business with. The emails say something like, "See the attached invoice for your recent purchase. If you did not authorize this purchase, click on the link below."
Just like other phony emails, this one is designed to get you to click on a link that takes you to a copycat website where you're asked to provide personal information that can be used for identity theft. Or it executes a program that gives scammers access to your computer, where they then install ransomware that prevents you from accessing your own files.
Apple has put out a statement on its website offering tips for determining the legitimacy of emails from them. One is, "Never enter your account information on websites linked from these messages, and never download or open attachments included within them." Apple further states that genuine purchases will be accompanied by a receipt that includes your billing address, something scammers are unlikely to have. You can also review your Apple purchases by separately logging into your Apple account (not using an emailed link) and checking your purchase history.
Finally, Apple will never ask you over email to provide your Social Security number, mother's maiden name, credit card number, or similar personal information.
Other tips include:
~ Only open attachments if they're expected, and from someone you know, with an email address you've verified.
~ Never use an emailed link to access your account. Instead, use a bookmarked URL that you know is valid.
~ Use and regularly update security software.
~ Regularly back up your files.
Scammers count on your ignorance of how they work. Instead, stay informed and stay safe!
Short Tutorial / FAQ - What's The Best Way To Charge My Devices?
Question: I want to keep my device battery going strong as long as possible. What are the best ways to keep it healthy?
Answer: You're smart to ask because there's a lot you can do to maintain your battery so it keeps your device running strong. Here are a few pointers:
1. There's something satisfying about having a full battery charge, so you may be tempted to recharge every time yours goes below 98 percent. But it's better for the battery to let it discharge a bit more before you charge. A good time to charge is when your battery hits about 50 percent. In addition, try to avoid keeping it plugged in once it reaches 100 percent.
2. Avoid letting your device get too hot. Don't leave it outside or in a car on hot, sunny days.
3. Use the correct charger. The one that comes with your device is perfect; any other charger may cause damage to your device.
4. Clean your device regularly. This is easy with screen-specific cleaning solutions for screens and compressed air for mechanical parts.
5. Use as low a brightness on your screen as possible, as cranking it up can drain your battery.
---
Sites of the Month
Keep America Beautiful
https://www.kab.org/
April is Keep America Beautiful Month, and the organization by the same name is dedicated to doing just that. The group's website offers ways to improve and beautify your community environment. Programs include ending littering, improving recycling, and preventing graffiti. Use the handy search bar to find a nearby affiliate.
Eat More Garlic
https://www.allrecipes.com/recipes/1086/fruits-and-vegetables/vegetables/garlic/
Flu season may be over, but it's still a good idea to nurture good health. One great way to do it is to eat immune-boosting foods like garlic. Check out this site for delicious garlic recipes like Garlic Bread, Garlic Kale, or Honey-Garlic Slow Cooker Chicken. Staying healthy never tasted so good.
Get Accurate Weather
https://www.accuweather.com/
Springtime means unpredictable weather, so it's helpful to have a weather news tool you can trust. Check out this site for current conditions, forecasts, and severe warnings for anywhere you choose. Use the links in the Social tab to get the latest updates on your favorite platform.
Dare To Repair
https://www.repairclinic.com/
Whether this is your first fix-it project or your 100th, this site can help. Here you'll find step-by-step videos for projects ranging from replacing the spark plugs on a chainsaw to troubleshooting a dryer that won't heat. If you just need a part, search by model number and order for fast delivery.
---
More...
Two to View - A Couple Amazing Videos You Don't Want to Miss
Domino Bricks - How do you make wall construction fun? This crew set up bricks domino-style and let gravity do the rest of the work.
Drawing With Weather - Watch the fascinating process this Dutch artist performs to make the perfect accessory for April: wearable rain.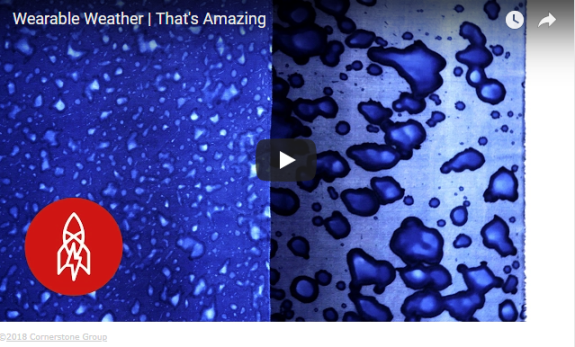 Go Pinterest-ing! - Cool Stuff to Pin on Your Pinterest Boards
Adorable Succulent Planters For Spring
https://www.pinterest.com/pin/291537775871900396/
Make These Colorful Rock Photo Holders
https://www.pinterest.com/pin/291537775872224531/
Your Dog Will Love These DIY Treats
https://www.pinterest.com/pin/291537775872224460/
You haven't started pinning on Pinterest yet and you want to get started? To sign up, go to www.pinterest.com.
Free Featured Apps - These Three are Well Worth the Look
Mr. Number - Take control of your smartphone. Download this app to block unwanted calls and texts, and protect yourself against spammers.
Quik - Make amazing videos with your own moving or still shots. Customize with video styles and soundtracks. Then, easily share.
Slice - Perfect for online shoppers, this app helps you access receipts, track packages, get better deals, and be alerted about recalls.
---